This Week In Kristen Stewart #education
September 25, 2009
I was in the city for work yesterday and didn't get a chance to finish what I was writing before I left my offices in Nueva Jersey. I did write a post for yesterday. Actually, if I knew how to write short posts you would have gotten one, but I write long posts and this one is very long and you didn't get a post yesterday. But if I wrote short posts rather than long posts then it wouldn't be me. And I wanna be me. Anyway, the post I wrote yesterday will be Monday's post. It is long, epic and hopefully entertaining.
On that same note, let's have a group prayer that today's post is anywhere near as entertaining and educational as you all going crazy in the comments section yesterday.
God we pray to you. We pray to you that this one very fallible man can produce words that delight the hearts and minds of this beautiful nation we call Earth. We pray his jokes produce laughs, we pray his facts produce thoughts and we pray that one of these lazy ass horny commenters finds and subsequently bangs him because his car doesn't get the best miles/gallon ratio and there has been a rattling noise recently when accelerating up to 30mph that is disconcerting to say the least and he isn't too comfortable taking the car on a long trip. We pray to you God for all of this. And, we thank you God for the fruits of your labor in particular the television show Community and It's Always Sunny in Philadelphia. Thank you God, we love you. Goodbye for now because we will definitely be talking to you again during the Steelers game this Sunday. GO BLACK AND GOLD!
End prayer.
Onto the mothereffing post….
I take requests.
There is a new addition to the currency. We live in an ATM culture and I haven't seen this much Andrew Jackson since the Battle of New Orleans. Wowzers! A Bikini picture was and still is the $20 bill around here at KSWI, but I'm going to add a $10 bill. Move over Alexander Hamilton and bring on pictures of you wearing lucha libre masks! You read that right. I got a picture of one of your fellow readers in a Mexican wrestling mask. I don't know where you get a Mexican lucha libre mask (Mexico, probably), but if you have one take a picture of you in a bikini and the mask and I may die faster than Aaron Burr after he was shot by the previously mentioned Alexander Hamilton.
So the point is, I'm not going to say who, but her request was for me to write an educational post today. How the hell could I say no to that? This is already making me laugh typing this because honestly this post could be about anything, right? Judging by what I have written thus far, literally anything could be the subject of this post. You fabulous readers have no vantage point to be able to even venture a guess at what this next 2000 words will be about. Frankly, it is nuts.
Today's post that will hold you until Monday will be about…. Charles de Gaulle.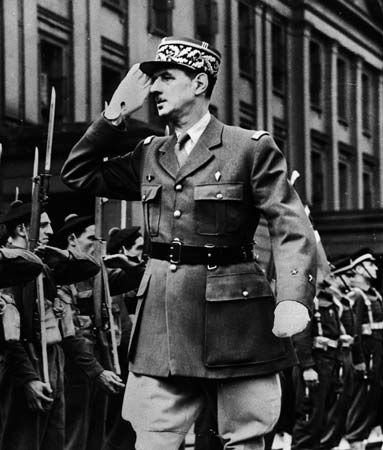 HAHaHAhAHAHAhhahaahaHAHAHhahAHHAHAh
Giving me no real leash and just a vague desire, I tried to think of something to write. Philosophy? Maybe utilitarianism, maybe bad faith. Sociology? I love Max Weber and I hate Emile Durkheim, maybe something on that. Then I thought maybe a historical figure like the Catherine the Great post. But from what country and from what time frame? There has been so much history and so many people in it. How will I choose? Eventually my mind wandered on a topic I love in history: assassinations. There are so many great assassins to choose from and so many people who were killed by those assassins. What a conundrum?
I settled on Charles de Gaulle in a very pragmatic utilitarian way; he is the most bang for your buck. There are 31 documented assassination attempts on Charles de Gaulle's life and they all failed. 31!?! Talk about wanting it! They wanted that man dead. D-E-A-D dead. There have been an awful lot of awful people in this world and there have been just as many men willing to do awful things to get rid of them, but 31! Fidel Castro and Adolf Hitler also had dozens of assassination attempts on their lives and even more rumored. The key with de Gaulle is that these are all documented. We actually know the exact details for 31 of them and there are countless rumored ones as well.
Add this piece of information to the insanity, all these attempts took place between 1944 and 1968. In 24 years people tried to kill this man at least 31 times. That is roughly 1.3 times a year someone tried to kill Charles de Gaulle. So I guess we can consider that a bullet for the head and a bullet for the leg every year like clockwork for 24 years. Spoiler alert – none of them worked. Charles de Gaulle died when he was 80 watching television at home with his wife. That might have been more torturous. I bet she was yapping away in French: "Charles could you help cut the vegetables for the salad? Charles? Charles, are you even listening to me!?! I know you can still hear me because none of those 31 assassination attempts damaged your ears!" In fact, not one assassination attempt injured him more than a scratch, which I will get to later.
But who was Charles de Gaulle? And why did these people so badly want him dead?
Charles de Gaulle was born in France in 1890. He is easily the most influential and controversial French … well, uh, person of the 20th century. Charles is most famous for being the 18th President of France from 1959 – 1969. Prior to that, he served as the Minister of Defense, the Prime Minister, and as the first President of the Provisional Government of the French Republic during/because of World War II. Probably my favorite of the "World Wars" was WW2. So many good video games were made because of it and Band of Brothers rocked. But did Charles de Gaulle want it?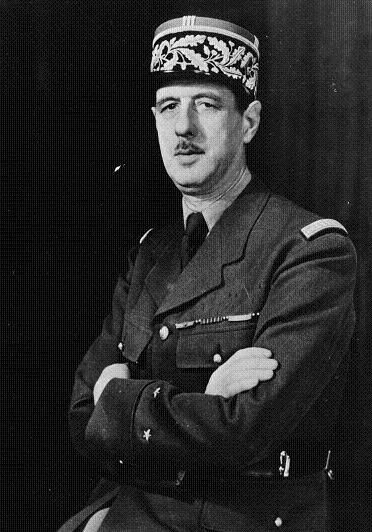 Yeah he did. Chuck de Gaulle wanted it. He wanted it like a World War I prisoner of war who writes a book about his experiences while in prison wants it. Yeah that's right. All you lazy writers out there (me included) who have aspirations of writing a book, but can't find the time to because you're too busy watching The Shield on DVD, well Chuck wrote a book when he was in war prison in Germany in WWI and was only 26. He didn't stop at one book either. Between the 30's and 40's, Chuck wrote numerous books on military strategy with bad ass titles like The Edge of the Sword and The Army of the Future. These books were rife with imagination about armored tank divisions and military aviation. Poor Chuck, he lived in a country who at the time didn't believe in a professional army, so it all went to waste. Pussy French bastards, right?
Chaz de Gaulle started off as a colonel in World War II. His superiors hated him for his books and thoughts. Damn you genius IQ! I have a lot in common with Chaz. Not one of my superiors has given me a promotion because of this blog. I wonder why? Nevertheless, Chaz led some of the only successful French attacks on Germany. You know how idiots yell about how America saved French's ass in WW2? Well… we did, but that's because Germany ran roughshod over France. Chaz's few victories promoted him through the ranks quickly and he became Brigadier General. Anyway, long story long, Chaz became a pretty big deal in WW2. He helped coordinate with the Brits and as mentioned was elected to President of the theoretical country of France. And as you all know that the Germans eventually lost because Americans are so big and strong and say witty one liners and ride horses with Colt .45 revolvers and we have sex with all the beautiful women and drink whisky and smoke cigs and we win shit.
So what about people trying to kill him? Charlie became a big deal in the military and then after WW2 he became a really bid deal in politics. Charlie was a man of strong opinions and strong actions. He was insanely pro-France. He fought to re-establish France as a super power and diminish the USA's influence in Europe. He also recognized Communist China and believed in having a strong foreign policy with countries outside of the US and England. He pissed off a lot of people as well. The most divisive move that Charlie made in his tenure was freeing Algeria from French control. This was not a popular decision with people who wanted to kill him. They really wanted to kill him because of it. Friends and co-workers wanted Charlie dead. The main man who wanted good time Charlie de Gaulle dead was Jean Bastien-Thiry.
Main man? Well, Jean Bastien-Thiry helped orchestrate at least 5 assassination attempts on Chuckster de Gaulle from September 1961 to August 1962. That's some hardcore playa' hatin', right? Bastien-Thiry was actually awarded a medal by the Chuckster for missile engineering before this whole I want to kill you business. Bastien-Thiry didn't act alone. He was helped by the French OAS or the French Organization of the Secret Army. These people did not want Algeria to be a free country and as mentioned Chuckster did want it. Needless to say, they were not keen on debating with the Chuckster about it. Unless by debate you mean "I kill you with machine guns" or "blow you up with a big ass bomb". But, did Jean Bastien-Thiry want it, ladies?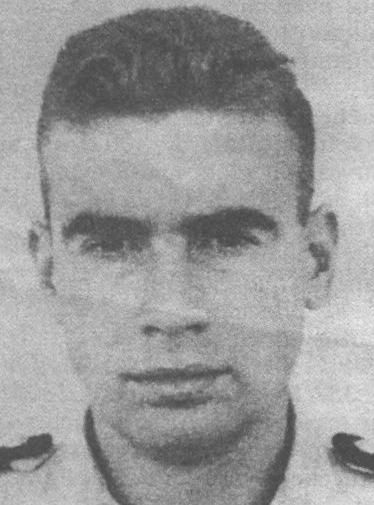 Hell yeah, he wanted it. He wanted Chip de Gaulle deader than all these dead celebrities that are dropping like flies over here in America. How are we going to have hilarious ironic cameos anymore if there are no ironic celebrities alive to do them? The five assassination attempts on Chip by Jean Bastien-Thiry all involved cars. He wanted to blow up Chip in a car, he wanted to shoot Chip in a car, he wanted to eat green eggs and ham with Chip in a car as long as the green eggs and ham some how pulled a gun and shot the shit out of Chip de Gaulle. But none of these plans worked. Not even remotely. They had an extremely bright military engineer and a whole secret army, but they couldn't hurt Chip.
So a lot of the attempts on Chuckles de Gaulle's life involved him getting killed driving to or from some event. Those five attempts on Chuckles' life are as follows: a bomb in the road, the same bomb in the road, an ambush, a drive-by ambush, and another ambush. All failed. The first and second attempts were cost effective though, they used the same bomb. I can't remember specific quantities, but Jean and the OAS took a shit load of TNT, plastic explosives and gasoline and mashed it all together. They then dug a hole in the road and put the bomb in that hole. They knew that Chuckles was going to drive down this road and they thought that Algeria would be back under France's control. Also I think Wile E. Coyote might have been involved.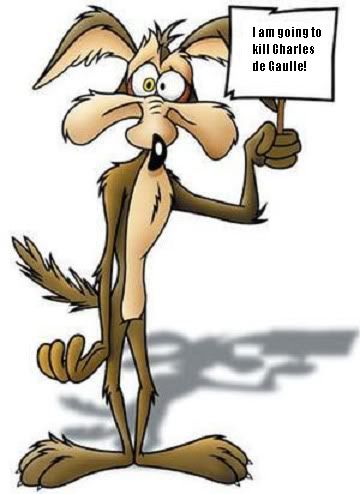 On the first pass, the limo went straight over the bomb, but the bomb blower-upper with the switch lost his nerve. French pussies, right? But thankfully for the killers, what goes up must come down and Chick de Gaulle was going to go on the same road for the return visit. On the second pass, the limo went straight over the bomb and the bomb exploded… sort of. Apparently, plastic explosives have an expiration date much like milk. Isn't that silly? So only the gasoline and TNT exploded causing a fireball to engulf the limo. But Chick's crazy ass limo driver just drove through the flames and didn't stop. It was 1961 and in France and he was a "professional driver" so he was probably drunk meaning he didn't panic and just calmly drove through a huge fireball heading straight for him. Good move.
The third attempt was stupidly thwarted by another limo driver. There was an ambush set up for Charcoal de Gaulle's limo again. This time the limo driver decided to take an alternate route to the event and not tell anyone. Some may say that is breaking protocol to take the President of a country not the way you said you would and go some other way and not tell any of the rest of the security detail. But hey it worked. That must've been a sad sight though. Imagine all those secret army killers and poor Jean Bastien-Thiry with their machines waiting around and no limo shows up. Maybe they played some word games or "eye spy" to pass the time between them hypothetically murdering the President of their own country.
Jean Bastien-Thiry and his gang of ruffians weren't all bad. Their fourth attempt was thwarted by innocent bystanders. The plan was for a bunch of gun toting Algerian hating nut jobs to get in a car and follow Charley de Gaulle's limo. When they got to a certain point along his route they would sidle up to the limo and the shoot the effing shit out of it. Good plan. Seems flawless up until the moment when a car full of unsuspecting citizens actually pulled between the murderers' car and the murderee's limo. At a stop light at some point in 1962 there was a moment where morality won. A car full of killers with machine guns in one lane, just some person in the middle lane and Charley de Gaulle in the other lane. The OAS decided that they would not kill any innocents and gave up on the mission. Awwww… they're such sweet hearts. A bunch of teddy bears.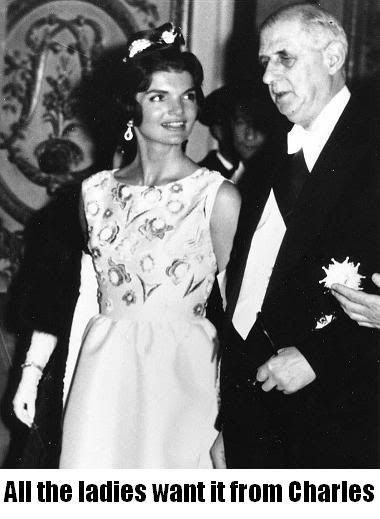 The final attempt is the most amusing. One last ambush attempt was set in place. Charles de Gaulle was at a function with his wife and a few others. Jean Bastien-Thiry gained access to the event and Bastien-Thiry watched Charles. He was going to signal the ambush to get ready when Charles left the event. On this ride home in an unarmored limousine fully loaded with the President of France Charles de Gaulle, his wife and his "entourage" an ambush finally sort of worked. A series of OAS men did ambush the limo and spray hundreds of machine gun rounds at the limo. In some case of divine intervention, not one bullet hit anyone in the car. Can you believe that? Not one.
After the machine gun fire subsided and everyone dispersed, there was not a single person hurt in the car even in the slightest. Actually the only injury to be suffered was upon exiting the car. Charles had broken glass covering his suit jacket. Charles tried brushing some of it away with his hand and he slightly cut his finger on the glass. VICTORY! I bet the OAS and Jean Bastien-Thiry were happy with their success of barely BREAKING HIS SKIN! I kind of picture Charles de Gaulle as Mr. Magoo just going about his day. He spies a shiny object on the ground and bends over to pick it up and an atom bomb whizzes past right where his head was the second before. He stands up straight without a moment of panic and goes about his day.
In the end, Jean Bastien-Thiry was caught, tried and convicted on these attempts and was sentenced to death. Jean completely admitted to the attempts in court and argued that this was all a case of tyrannicide like St. Thomas Aquinas would have believed in, a man after my own heart. I digress; Charles de Gaulle held no hard feelings for his would-be assassins and usually commuted their death sentences to life in prison, except for lucky Jean. He was executed. There are a few ideas why Charles had him executed. Maybe it was how many attempts, maybe it was because Charles had praised Jean as a military engineer and awarded him a medal, maybe it was because Charles' wife was in the limousine on the final attempt, but the most popular was that Jean wasn't even man enough to be there to actually shoot Charles. Jean was the lookout man who just signaled the ambush to take place. He wasn't even there when it happened. You have to love the ego on Charles. If you're going to kill him and want his respect you have to at least be in the general vicinity.
Well, I had fun writing about this. It isn't too often I get to talk about assassinations. I hope my lucha libre mask wearer enjoyed today's post. I hope you all did. Another interesting week of posts on KSWI, I think at least. I hope you all have a good weekend. I'll be back Monday unless I'm stuck at the South Street Seaport watching Obama's motorcade drive down the FDR.
Yeah, she still wants it. Kristen Stewart wants it so bad.