What is the one thing that a rich, famous and good looking person needs? Meaningless awards! Actually, most of the people I'm about to mention didn't win an award. I guess the real answer is the rich, famous and good looking will take any reason to get dressed in thousand dollar clothes that they didn't pay for and get their picture taken a million times and then get blitzed with each other. I can't really fault them for that. I take about any opportunity to get dressed in fifty dollar clothes that I did pay for, avoid any flash photography and get blitzed with the same people I've been getting blitzed with for the past eight years.
What does this all mean? We're drunks. Besides that, the 2009 Primetime Emmy Awards were on CBS a couple nights ago. Did I watch it? Fuck no. I was watching the New York Giants vs. the Dallas Cowboys, the season premiere of Curb Your Enthusiasm, the series premiere of Bored to Death and a new episode of Mad Men. Did I spend a good chunk of time staring at Blake Lively's red dress cleavage yesterday at work? Fuck yes. So I'm going to write about the Emmys. This world works in mysterious ways.
I found a gallery of post-Emmy party pictures taken by Life. I'm going to put my amateur psychological doctorate and my blackbelt doctorate in Wantology to good use by analyzing these pictures. Gimme da' funnee.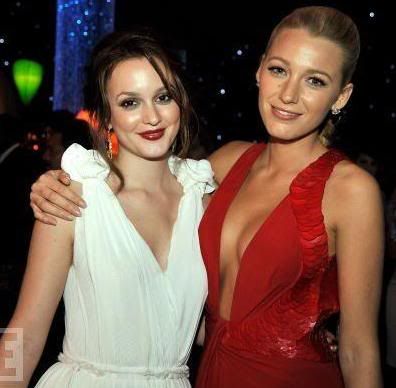 Wham! Bam! Thank you… you lovely young woman who I respect for your intelligence and not just the drool inducing plunging neck line which is closer to a navel line it is so low. Holy eff. Have you seen the other one million pictures of Blake Lively in that dress? They are glorious. Glorious in like watching those German teenagers taking pick axes to the Berlin Wall. In a Ronald Reagan senility infused drawl, "Ms. Lively tear off that dress." How many sexy jokes have you read about this dress? How many of them referenced the collapse of communism in that joke? Or Ronald Reagan's second Presidential term?
Two things stick out to me in this picture (minus the gloriousness already mentioned): #1. Blake Lively does not want it. She knows that she is making you want it, but her own want is up in there. She isn't a blackhole like Megan Fox. There is no maliciousness in her making you want. Blake knows that her dressing like this can warm the hearts and pants of the citizens of the world (or at least the straight guy ones and the at least semi-gay girl ones). Her nudity can provide unity.
#2 Leighton Meester is in the picture. Yeah? It took me awhile too, but she is there. Leighton is very attractive as well, but if she wanted to get any attention in this picture she may have needed to just strip to a thong because everyone is just staring at Blake Lively's ti… chest.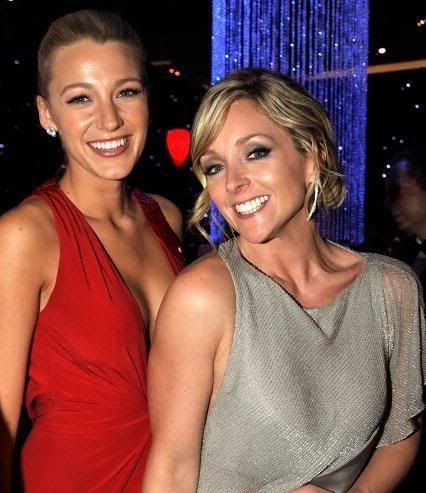 Jane Krakowski is a smart woman. Smart human being. A) she boxed out Blake Lively's boo… dress and B) she is doing a Floyd Mayweather Jr. shoulder roll to block Blake even further. Smart moves Jane.
There is no way you can look at this and not immediately imagine them doing it. I'm not sure if most know that they are together, but whether you do or don't you immediately think "so what would that look like?" They are both saying a lot in this picture. Like they won't shut up that is how much they are saying. Elizabeth Moss definitely wants it. Also, is it just me or does Elizabeth Moss get a little sexier every time you see her? Not like Superman jumping over tall buildings leaps and bounds, but her wanting it is inching my attraction to her along short and steady. I picture her as being aggressive and wearing the pants between these two.
EM – Yeah, I want it. When you started watching Mad Men you probably couldn't care less when I appeared on screen. Now you almost can't get enough of me and how much I want it. And yeah, I fuck Fred Armisen. Yeah, think about it. Let that image massage into your brain. Yeah, it's crazy. I want it from Fred Armisen from SNL and I GET IT!
FA (nodding along) – Uh huh, yep, uh huh, yep, uh huh, yep.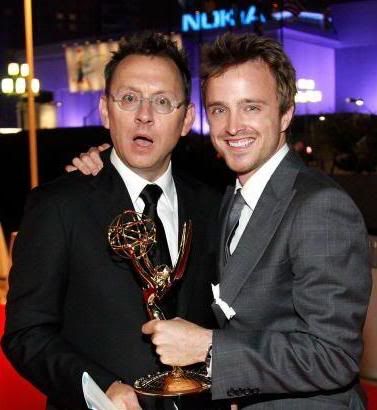 I don't know if Michael Emerson and Aaron Paul are a gay couple, but they look like a great gay couple. Honestly, they should just try it out. Michael has that literary professor sensibility. His first couple of novels were great, but he has hit a wall in his writing. He self medicates with wine and pot and teaches at the nearest acclaimed private university. His trophy "partner" is Aaron Paul. They met several years ago at a party in celebration for Michael's second novel being on the New York Times best seller list. Aaron is fun, charismatic and is actually quite bright, but he gets by on his looks so he hasn't worked a day in his life. He spends most mornings sleeping in and then the afternoon doing laps in the pool. Aaron provides the looks and flattery to Michael's precious naturally low self-esteem. Michael provides the fatherly structure and financial security that Aaron needs.
I think it will work. That is until Aaron gets too fucked up at a party and cheats on Michael. This will lead to a messy break-up…..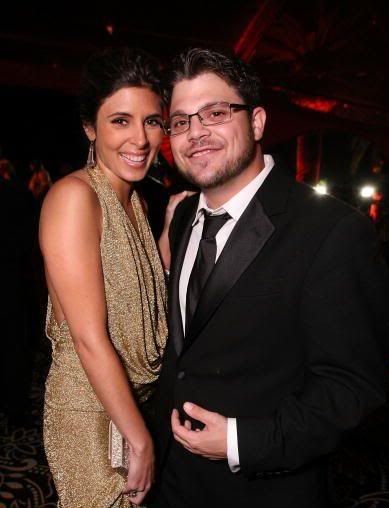 She's drunk. She doesn't want it. She's just drunk. All the time. I think Jerry Ferrara keeps Jaime Lynn drunk all the time. Or maybe she keeps herself drunk all the time. Either way, there is no other way to explain what is happening in this picture without an IV drip of 80 proof Vodka jammed into Jamie's arm. As for Jerry, he is saying "you know it."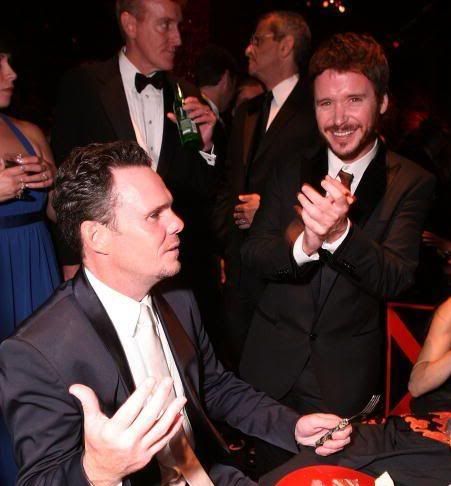 Ugh. I might as well get the other Entourage guys out of the way. I've never once thought about what Kevin Connolly looks like with a full beard and up until this moment that was an excellent decision. He looks like such a creep with the beard. I think he is pretty creepy usually, but when he is clean shaven he has that "maybe I'm still in my 20's maybe I'm 55 and have some weird disease that makes me look young" style. It isn't a bad beard either. Keanu Reeves has a bad beard. It is just thick patches of hair as if the others fell out from chemo. It isn't like that. It's a nice beard that just makes Kevin Connolly look like a complete creep.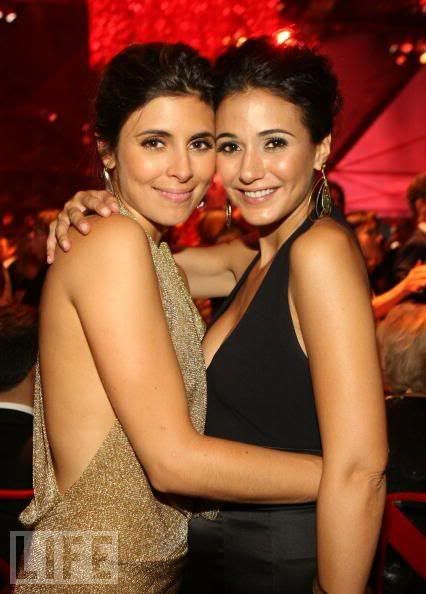 Drunk. I'm right about this Kristen Stewart wanting it thing. I'm right about this. Do you remember the Oscar winning picture Love Potion No. 9 with Tate Donavan and Sandra Bullock? Of course you do. Remember the evil ex-boyfriend, Gary, figured out about potion #8 and its time constraints. So he used to call Sandra once every four hours to make sure she was always under his spell. Good plan. That's what is happening here! They're just keeping Jaime drunk so she'll never realize she's with Turtle. Eh, who cares?
Emmanuelle Chriqui is hotter than her name is hard to pronounce on the first 15 tries. She should just legally change her name to "You're So Hot" and it would be a lot easier on everyone. It kind of has a Korean ring to it. You-reh Tso Hot-toh. She's so hot inanimate objects think she's hot. My stapler has a boner.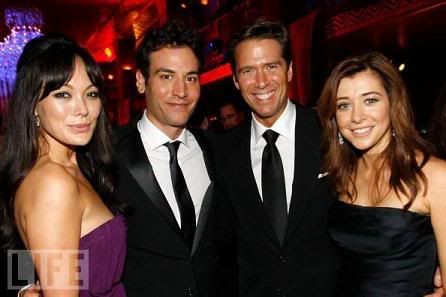 From left to right:
Lindsay Price – I want it. I also would like a successful television series. Nonetheless, I want it. I want it bad.
Josh Radnor – Yep. You know it. You can't believe it, but this world is nuts and yeah she is with me and she wants it. This world is so crazy. The US has a black president, Chuck Liddell is on Dancing with the Stars and this chick wants it… from me. I love CBS!
Alexis Denisof – We are just going to remain in dead lock eye contact. I really want to look over at Lindsay because she wants it so bad, but I can't. Got the wife over here to my left. So I'll just keep smiling and staring at you until hopefully everyone just walks away. While you're here, do you remember me? I was on Buffy and then Angel. Good shows right? I had the British accent. There were like 100 episodes of Angel. It was pretty popular. Please just say you remember me even if you don't.
Alyson Hannigan – Lindsay wanting it this badly is weirding me out and if my husband who has a girl's name even looks at her for a second I will cut his balls off and wear them as a necklace.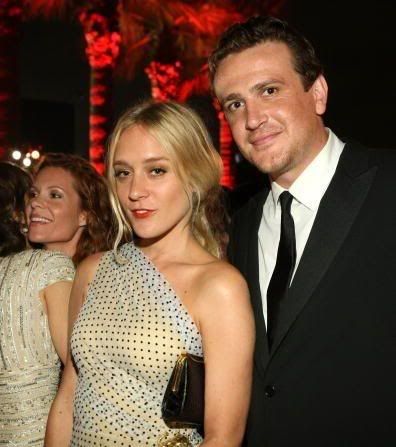 Brown Bunny. I'm just saying what we are all thinking. Or the "all" that know what I'm talking about and subjected yourself to watching that garbage movie so you could see the last ten minutes. Either way, Jason Segel knows what I'm talking about. And Chloe Sevigny definitely knows what I'm talking about. Chloe wants it.  Chloe is a great actress and has had quite a career of wanting it as well. She's been wanting it since Kids; that was 14 years ago! Christ I feel old. Jason Segel wants it from Chloe Sevigny and he knows he is going to get it.
I feel like that has been a common thread with these guys. They don't necessarily "want it", they just "know it". They are letting you know that they know that you know that they know they're going to get it from these very very attractive significant others who are way too good looking for them to normally get if they weren't wildly successful or at least on wildly successful shows. It is a lot of "I'm not going to say anything. I'm not going to brag. I'm just going to play it cool. But I'm going to let you know with my eye balls that I know. Oh, I know. And you know it too. We know it together. And she wants it."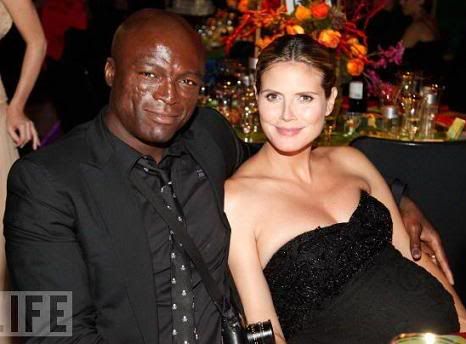 Boom. Winner. Seal won. He won. There is no other way to put it than he won. Life is a game and he won it. He won it by a huge margin too. He won it like one of those college football scores 91 – 3. That field goal that life got on Seal is those crazy scars that people love to talk about and for whatever reason can't come to a conclusion on their origin. I've heard everything from acid attacks to tragic Backdraft-esque childhood house fire. It's lupus, but I've heard some wild stories from people claiming to be Seal experts. But who cares, he peed on life. The game started and Life got a 25 yard chip shot field goal and then ever since it has been 91 unanswered points scored by Seal.
I've been having trouble starting this paragraph with subtlety, so fuck it: Heidi Klum and "Kiss from a Rose". Second first and then first second.
HE WROTE "KISS FROM A ROSE"!
Arguably the greatest love song of all time. On top of that he wrote some other jams, but come on, "Kiss from a Rose". You sing that song when you hear it. You sing it! It's like "Killing Them Softly". If you find yourself out in the world and those songs start to play you sing them. You start off a little low just kind of above a hum. Depending on where the song is coming from you will eventually be belting that song out.
Realistically if the song is playing in a passing car you don't chase down that car to keep the song going on in your life. Instead you hear the song pass, you think upon its brilliance and the love that it generates in all of us and with it now gone you feel sad and lonely again…. But just knowing that there is a chance you could hear it again at some point in your life makes you smile. That had a happy ending. Also you always sing "Stay". Just because I can growl all of Hatebreed's songs doesn't mean I can't lay out Lisa Loeb's "Stay" as well. What was I talking about?
Seal! He won. Heidi MF-ing Klum! Heidi wants it in this picture. She's X many months pregnant and she knows she is still the hottest woman at that event. In her German accent she's thinking "Those other bitches ain't got shit on me. I'm still sexy." That doesn't sound German at all. But she's correct. Seal is procreating with Heidi Klum. That is an automatic life win in my book. I can't think up enough adjectives for how gorgeous Heidi Klum is so I'll just sit and stare for awhile.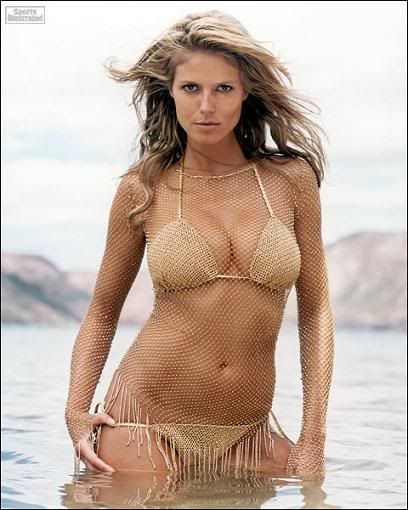 Needless to say these people don't want it like Kristen Stewart. She isn't on a TV show, but she should be at this event regardless. She should just stand at the end of the red carpet and each one must face off "wanting it" one-on-one for about 10 seconds at a time. She would put these people in their places. Some would be injured; some would be scarred for life. Only the strong would survive.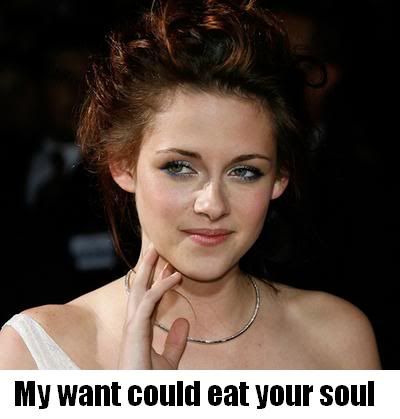 I have a lot more Emmy pictures, but this has been a lot. Do you want me to do another one of these?