Today is an EXAMINATION!
YES! Yes! Yes. yes…
Today, we* will examine the infamous Oscar nominees picture?
Why?
Why indeed. Why indeed! We will do this, we will do this, we will do this… we will do this to…
EXAMINE
THEIR
WANT!
Also to make fun of their stupid faces.
I hope you are well prepared with your Wantology text books for sale at a reasonable $79.99 from the Want Book Store on the corner of Want avenue and Want way because we will be needing them for this post.
*we – meaning me actually doing everything and you reading and judging me for what I'm doing like every day
Let's begin with thee PICTURE!!!!!!!!
Look at their stupid faces! Ahhahahahaha! Look at all of their stupid faces! They're so stu-peed! Obviously, this picture is too small to really delineate between who wants it and who is just pulling a stupid face, so I went through the courageous effort of blowing up the picture and cropping sections of the floating heads at a time to be thrown into the crucible. Basically, there will be an assload and/or asston of pictures in today's post. I believe 30 to be exact.
Nevertheless, this picture I believe came out yesterday or the day before or the day before, but pretty recently. It is all the Oscar nominated actors, actresses, directors, writers, nerds who do the nerdy things like sound editing and so forth. They wrangled them all for this one picture. It is a wondrous picture because actors/actresses are generally in the category of "beautiful people" and then people with other "talents" like lighting beautiful people so they look more beautiful are usually in the second category of people "pig people", which is where I the faceless blogger know my brethren well. I guess for hijinx the person who arranged this picture mixed in some of the beautiful people with some of the pig people (as it happens in nature) and there are some humorous moments of "oh that person is much more attractive to than the rest… oh wait it is Jeremy Renner. I know who that beautiful person is! How silly."
I will start top left of the picture and then continue left to right as in reading English until I get to the top right and I'll back track right to left as in reading Hebrew (typical Jew behavior) and continue doing this until I snake my criticism of each and everyone of these people until the VERY END! And it is a good ending, I'll say that much.
BEGIN!
They all seem to be pretty normal until you notice two things:
1. The guy's afro second in from the left
2. The other guy at the top right smelling what the Rock is cooking.
Aside from that, it is a happy portly gentlemen and a cancer survivor and/or Mark Messier look alike convention.
No one particularly wants IT per say. I think the guy with Afro is trying to tell us his face looks like a square, but his hair is all rock and roll, so you two may want to head to a malt shop together for some liquor. The smelling what the Rock is cook and/or Colbert Report eyebrow guy doesn't want it – he just thinks he is funny.
There is a lot of want in this picture. More want than I'm comfortable with. Take a look at all 6 of these gentlemen and it might give you nightmares and it might give you ideas, but these me want IT. Starting bottom left, I will point out John Hawkes just because I am happy John Hawkes was nominated for an Oscar. I didn't see Winter's Bone, but I would like to. Either way, Hawkes is a great actor and I'm glad he's been recognized for it.
This picture is also the first of a trend – not just uncomfortable creepy want from older men – called TAN! There are some TAN or SUN BURNT people/dudes in this photo. Hawkes wants IT. The U shaped 4 guys want IT in the creepy "I'm across the pool wearing a tiny speedo and I'm thinking weird thoughts about you and you want to vomit thinking about weird thoughts about me face, but you know you still want IT" face. The 6th and final guy is wanting IT in a whole "I will stalk you home because I secretly know you love me" want IT face. Well done gentlemen.
Top left – Wants IT. Not a ton, but it's there. The bottom two women are on a whole level of giddy that they must have not calmed down yet from seeing both James Franco and Mark Wahlberg in the same place at the same time. The guy in the middle is just having a good time. Bottom right that guy is too cool for school and looks like a pompous dick in this photo. Also, he is showing way too much chest hair around an underage girl. And finally, that underage girl is MISS AMERICA Hailee Steinfeld. SERIOUSLY! She needs to win and I repeat if you are a straight dude who has a shot at her – FUCKING LOCK IT UP!
Chesty La Rue in the red bottom left. I don't want to be graphic, but even from this picture those things look huge. Good for her. Work it sister. Top two guys are nothing special. Top right was either surprise the photographer took the picture at the time he did or he is part squirrel. The guy in the middle freaks me out. The guy on the right just wants to be held. The Rooster is … a Rooster. And the bottom right guy wants IT like he is selling my Captain Morgan's Old Spice deodorant. Also, I think I may have cropped a few of these people so you will get to see them twice. Good for all of us.
Top row: I'm so happy I'm standing next to Mark Wahlberg. I am Mark Wahlberg. I'm so happy I've decided to press myself up against Mark Wahlberg instead of touching these pig people. I am feel extra confident right now because Mark Wahlberg shook my hand and I've never felt more like a man than ever before.
Middle row: Without these glasses I'm so blind that I make you blind. I want IT. I'm just happy to be alive because of how old I am.
Bottom row: I've killed men who have taken less pictures of me. I smoked with James Franco in the parking lot and it was awwwweeesssssoooommmmee.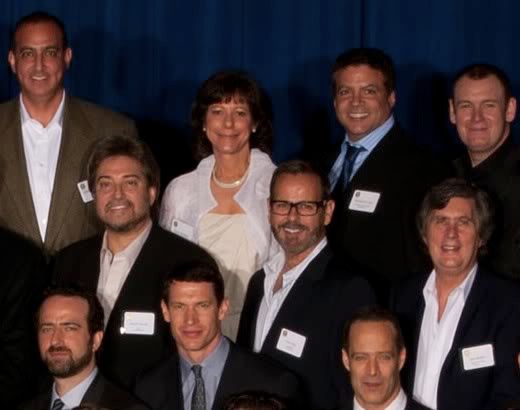 They all seem like nice people. The guy in the middle biting his lip is freaking me out. The guy on the bottom right may or may not be caught in the middle of a transformation between a human and a lizard creature with super powers. They call me the Chameleon. The guy on the bottom left is leery that a photo is being taken of him at all.
Top left may or may not be a British thug who muscled his way into this photograph. The woman two over was clearly a second or two off from when the picture was taken. And the guy below her wants IT and by IT I mean he wants you to see his ant farm.
Top left wants IT and appears to have a James Bond villain like scar on his face, which makes me think he wants it even more. Guy next to him is into it. Not wanting it, but just into this picture. Below him, Mark Ruffalo wants it. He wants it in all the whiny way that all of the characters he plays want IT. The blonde next to him wants IT because he wants IT and that could be said for the rest of his row. The bald guy next to him is into it knowing people will see him in the picture because Ruffles is there. Do people call Mark Ruffalo – Ruffles? If not they FUCKING should. The only other nickname outside of "overrated actor" or "the movie you just got nominated for sucks and I don't know why it is nominated for anything" I could think of for Ruffalo would be "Buffalo", but he does not exude any "Buffalo" traits. So Ruffles it is.
She's adorable. And Colin Firth is her protector. Michelle is one of the few people in the picture who you can see their whole body. I think it is just her and Trent Reznor who is coming up next. She is like a little pixie. A little adorable and bangable pixie faerie with mystical powers. And Colin Firth is there so none of these people sully her by breathing on her.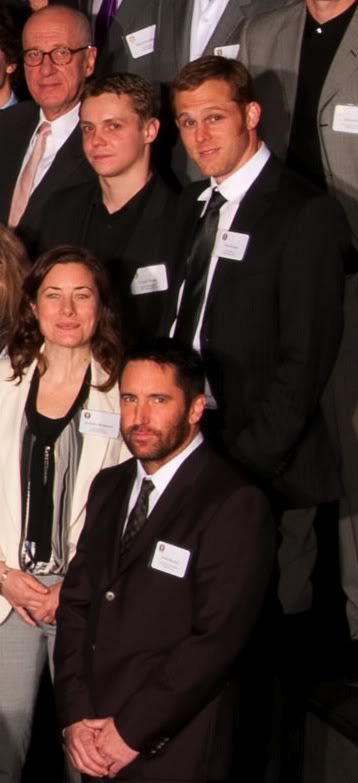 Fuck yeah. Trent Reznor. He looks so uncomfortable with his face. I think even Trent wonders about how he has lived this many different lives. At some point he was a child then a struggling keyboard player in 80′s bands then a musical genius then a crazy drug addict then disappeared then a musical genius again and now he is a normal dude who gained weight and works for white collar companies. Love it. The woman finds Reznor sexy and she herself is feeling sexy and titillated standing next to this handsome yet brooding and dark individual and she is showing the world that. And the top row: wants IT like an old man, wants IT like a young boy and wants IT like a young boy who now is a young man aka the Bar Mitzvah wants IT.
Can you spot the beautiful pers — YEAH IT IS JENNIFER LAWRENCE and Jeremy Renner.
Jennifer is like a light. Actually she is a light. A light that shines in the darkness and allows us to see what future may lay ahead and helps us read the past so we do not make the same mistakes twice. She is a light behind the crazy bag lady hair of the woman in front of her. Meanwhile, Jeremy Renner wants IT. This is not Jeremy Renner's first rodeo. He's done this before. He's had a camera pointed at him and he knows how to pull a blue steel right before the flash is taken. That's how he got into this business. Turn out he's a decent enough actor as well, but the guy was from the school of the Colin Farrell's of this world. I'm pretty, but I'm gritty pretty so I'll probably punch a guy at some point. The guy next to him looks like a weatherman and the guy next to him is Jesse Eisenberg. No one is more Jesse Eisenberg than Jesse Eisenberg. That guy is Jesse Eisenberg all the time. He knows it. He is comfortable in that uncomfortable skin.
Bottom left guy wants IT or holding back from laughing because he knows he is trying to wants IT that much. Middle bottom woman is kind of giving not necessarily a wants IT face, but more of an "I've had sex in a bar bathroom before drunk on martinis, so I know how to want IT". Yeah, I said that that woman had sex in a public bathroom. PROVE. ME. WRONG. The other guy on the top right is burnt. He fell asleep in the sun. Just saying.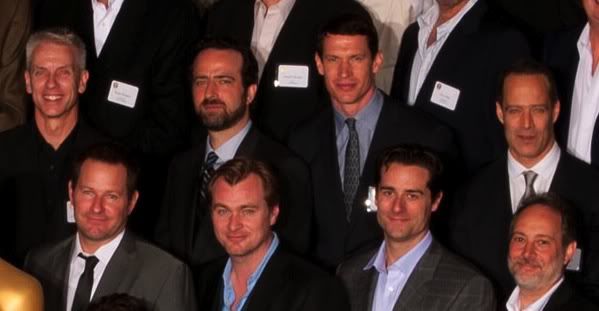 DUDES! Just a bunch of dudes here duding it up. What's up ladies? We're a bunch of dudes. Do you need any dudes? Because there are 8 dudes here waiting to do dude things. Need someone to be taught how to tie a half windsor tie? We can do that. We're dudes. How about getting a beer and watching a Knicks game? Dudes. We're on it. Need some loving? Dooooooodddddzzz.
Dork. Who showed up in the dork costume, am I right?
I have two things to say:
1. Natalie Portman is gorgeous. Always will be as well. There won't be a year from now until the day she leaves this Earth ascending to Heaven on feathery snow white angel wings that she won't look gorgeous. I'll say that. You can take that to Vegas.
2. Javier Bardem is the man. Javier doesn't look like a sex symbol in this picture AT ALL and I fucking love it. I don't care what you all think – you know he doesn't look good here. Javier Bardem knows there is work time and there is play time. During the working hours – Javier Bardem is a sexy Latin feast of a man. During play time he is eating Latin feasts and gaining weight on sangria. And GOOD FOR HIM. He knocked up Penelope Cruz and that is a feet on par with climbing Everest. Less men have knocked up Penelope Cruz than climbed Mount Everest. Think about it. Also, Javier Bardem is a fucking actor. This is his third time being nominated for an Academy Award. Third. Two of those nominations (best actor) were for films in Spanish. Fucking suck the fuck on that. No one does that except for Javier Bardem. He has more talent in one of his greasy tequila soaked pores than the whole lot of actors in the theaters with new movies out right now. Impregnates hot women, is excellent at his job and gains weight – love it. He's a hero.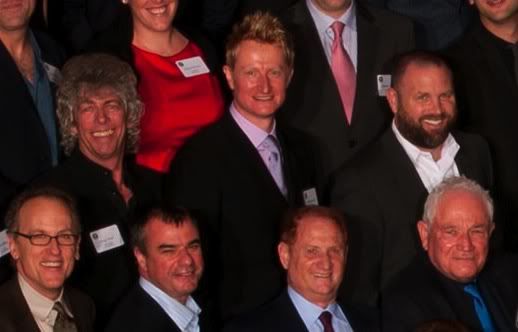 Outside of the Rod Stewart hair… what else is there to say? Seriously? What else is there to say? The guy below him kind of looks like a mentally handicapped Pete Rose? I could say that. I could say that, but it sounds mean, so let's stick to the fucking Rod Stewart and/or keyboardist for Bon Jovi hair. That's all you need right there.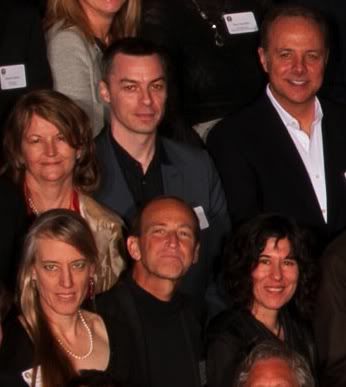 Pretty tame. Six people. Three guys. Three girls. Not much to say really. I don't know why you feel like I should make fun of every single person. What did these people do to deserve any scorn from me? They seem perfectly fine to me. Thoroughly fine. I bet each and every one of them would be nice of enough to hold a door or say thank you. I don't understand why you want me to hate on all of them. It's really a sickness. You should get that checked out.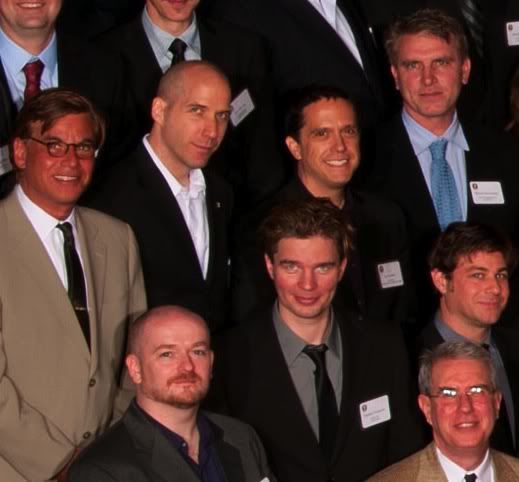 DUDES! Fucking dudes! Obviously, the guy in the middle is staring a want hole right through your urethra right now. That is some weird stuff. The guy to his left and our right is playing a little coy. Oh I don't know if I should smile for this picture or not. Top row baldy wants IT. He's trying a little too hard, but he does want IT. He clearly doesn't not want IT – if you catch my drift. And the guy in the glasses to the left is BURNT! Like he was filming a remake of The Last of the Mohicans and he was a Mohican.
Going from right to left they are getting progressively younger and less like an Italian mobster. At the right, he may be an Italian mobster from Bayonne. The middle is like an Italian mobster who lives in Fort Lauderdale. And to the left is a proper English gentleman. Left doesn't want IT because he is way too proper and maybe A-sexual. Guy in the middle wants IT like a Tom Jones concert. And the guy on the right may not realize he is even in this picture.
Fake ass Bradley Cooper. That's all I see in this picture. Remember when Bradley Cooper was going to be the next big thing after The Hangover and then he made other movies that were not The Hangover and everyone realized he would not be the next big thing? I do. His new movie with Robert DeNiro actually offends me it looks so bad. Limitless? Limitless it should be called This looks like shit. Not as catchy, but I think you get the point.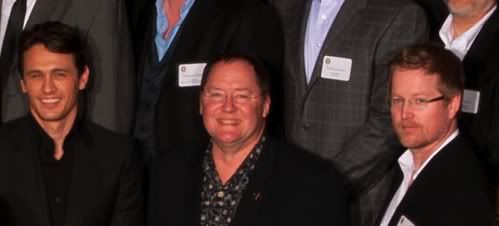 Franco. FRANCO! FRANK——OWWW!
The guy next to Franco who is happy to be in the picture and to be near a beautiful person who I would bet shook his hand. And then red haired dude with the glasses who wants IT.
Seriously, it is hard to hate James Franco. I feel like there are many reasons to hate him in the same way there are reasons to hate any great looking man who makes a lot of money and movies and girls want him and then he turns out not to be a dumbass like you hope and pray he is to knock him down to size and then you realize he probably listens to just as good music as you do and you really have no leg up on him in any category ever and in all likelihood you could probably meet him and he would be really nice and if it wasn't for all this spite you have towards him for winning at everything you secretly wish he was your best friend and the two of you could play catch in the park with smiles on your faces and high as kites. Garret Hedlund is not the next Brad Pitt. James Franco already is the next Brad Pitt. He's already here and has been.
Far right is BURNT, but owns it. Guy in the middle may or may not be cumming in his pants brushing up against sexy lady to the left. This woman does not look overly Hispanic, but when I look at this picture the only thing I can think of is Sean Paul's "Get Busy"… Yo sexy ladies want par with us …In a the car with us …Them nah war with us …In a the club them want flex with us …To get next to us …Them cah vex with us…… those are the actual lyrics. Fucking ridiculous.
Happy to be here. REALLY HAPPY TO BE HERE. SO HAPPY TO BE HERE, BUT I CAN'T EVEN CRACK A SMILE BECAUSE IF I DO I'LL SCREAM!!!!!
THAT JUST HAPPENED!
Ignore the "struggling" "misunderstood" "tortured" director at the top of the screen. Ignore him. He pretends like he doesn't want to be noticed, but he clearly wants to be noticed. Let's jump pass the reasonables in the middle. Lady pants over here is a confident woman. I would be comfortable asking her to raise my children and/or handle nuclear weapons codes. Lastly and amazingly, THIS MAN'S BRAIDED GOATEE! Velor smoking jacket aside which is just muah wonderful, but this braid job on the silver rat tail coming from his FACE is unbelievable. This man has the confidence of 80 George Clooney's stuffed into a giant Alec Baldwin. You get what I'm putting down? Fucking A plus sir. Fucking perfect score.
Not much to say outside of Darren Aronofsky rules at life as much as he does as a film maker. Blue suit? Fucking mustache? That isn't a "mustache". That is a fucking mustache. Sweet fucking mustache there Darren. He fucking knows it too. Him and his buddies talk about it constantly. There is no misconception here. This isn't by accident. They all know how sweet that fucking mustache is like he is a Musketeer and they all give him pats on the back about it.
LEGS! SHE'S GOT LEGS! And she knows how to use them!
These next few pictures are weird because this is what they did. I don't how to describe it better than that without ruining it. So easily one of the top three most beautiful women in this photo is being hid. They hid Amy Adams. Hid her. WHY?!!! She's so pretty. Why hide her? What could she have possibly done to deserve this? This is absolutely asinine. She should be paraded around on the back of oiled up non-rioting Egyptians on a golden sled where the sun massages her radiant soft skin.
But… she is instead hidden. Hidden behind this…
Hello, I am Academy Award winner Jeff Bridges and this is my bitch, Annette Benning.
WHAT IS GOING ON HERE?! Did they run out of chairs? Or was it always planned out to not have Christian Bale there (have you seen him? I haven't) and to have Annette Benning to ride the lap of Misseur BreeGees? Just weird stuff. Although, Annette Benning couldn't care less because I don't find her particularly with it. She seems nice and everything, but when she smiles I get a vacant look in her eyes like she's running on auto-pilot. And Bridges is Cheech and Chong aka James Franco level high, so he couldn't care less. You want me to have this broad in the skirt sit on my lap? Yeah, cool man, get her over here.
Not only is this odd situation hiding the more than attractive Amy Adams, but it is also hiding…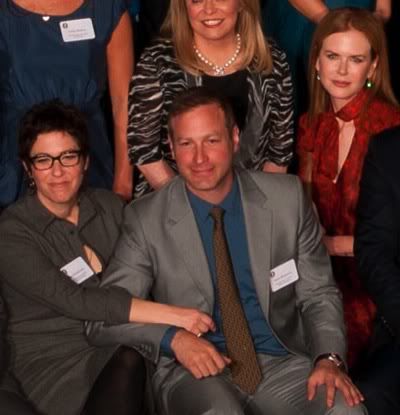 Nicole Kidman! Does this photographer got something about great looking redheads? I mean what the WTF man? That's not cool. Are Amy Adams and Nicole Kidman supposed to be the devil and angel on the shoulders of stoned Jeff Bridges? It's weird to hide them like this. Meanwhile, these two are a couple I suppose with the odd sort of holding each others' arms thing they got going on. He looks like a more attractive Bob Odenkirck and she looks like a more attractive David Cross. So that works.
Rick Baker brings it. I don't when exactly Rick Baker saw the burning bush and realized he should go with this look of the silver hair, pony tail, dark mustache, silver goatee look, but he's been rocking it forever and looks immaculate doing it. I think he is absolutely the only man on this Earth pulling off this look this successfully. If they made a movie about Rick Baker's life post-mortem then they would need to use CGI to recreate that man's achievements on his head.
The other two to the left are fine, but the question is what is the man next to Baker staring at? What has his attention? There is something to his right and our left that is drawing his eye. What on Earth could it be? Is it a monkey riding a tricycle? Is it a clown juggling flaming swords? What could it be?!
BOOBS!
Boobs is what it is. Boobs as it should be. Thank you Helenanananalennananenanana Bonham Carter for your boobs. You dressed for success today with your boobs. And we thank you. The man in the middle is either an older worse looking Jared Leto or a man who is wildly uncomfortable next to the BOOBS. And the last man in the foreground has never heard of wheat or granola or gyms, but he knows the words bacon and extra cheese like the back of his plump hand and I fucking love him for it. Fuck good looking people buddy. You're getting nominated for the same dumbass award as they have and you haven't had to run a near marathon a day to stay in shape to do it. Mark Wahlberg's a few rows up from you and he's been training 6 times a week to have a set of abs so hard and defined I could catch a grappling hook on them, but you sir have been eating sides of beef 4 square meals a day for the past 20 years and you two are still in the same dumbass room. He's fucking lucky to even be in the room. He personally wasn't nominated for shit. He's a producer in this room because for whatever reason people think The Fighter is a much better movie than it is. But you sir… you take the cake and eat it and then eat someone else's cake when they're not looking and you're a fucking A grade success, so fuck him and fuck diabetes because it is a government conspiracy that you get just because you enjoy a pack or 18 of zebra cakes because the Jonas Brother, Jay Cutler and Bret Michaels all have it and they're all in shape. So fuck em.
Also, BOOBS!
I'm done. This has been about 4000 words and I'll see you on Thursday.
One, two, three, four, five… ok now it is over 4000 words.