Another fucking week. It is Monday and it is shitty outside. Or it was shitty outside when I woke up. It has been shitty weather-wise for the past 3 days. Saturday was all day and all night intense rain. There was flooding all over New Jersey. And who really cares? I doubt any of you care about my trials and tribulations with flooding. I mean I made it through it. I'm still here typing, which is all that matters, right?
It doesn't matter to you all if I'm typing with one arm because I lost the other in the rain on Saturday. That's right. I could have lost my arm in the rain. The rain could've been so powerful it just tore my arm clean off. Or maybe I was caught in the flooding and somehow one of my arms got caught. I needed to free myself so I had to sever it with a pocket knife and say goodbye. But here I am typing away with my one good hand, because it is my only hand, to give you all a couple of jokes. You insensitive bitches, forcing a man with one arm to entertain you like some disfigured monkey!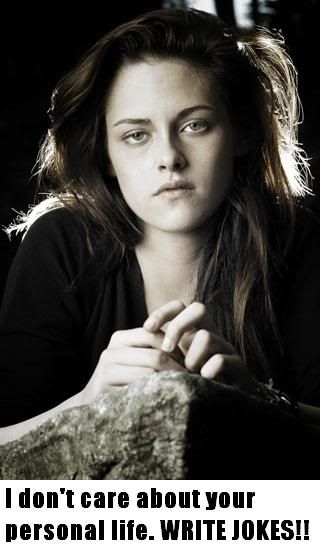 What if I lost both arms in the rain? I don't know how, but I could have. Here I am. I still show up for work. No idea how I got dressed or drove here, but I did. Am I typing out these jokes to serve your selfish desires with my nose right now? Who knows? Maybe I dialed the computer tech guys with my nose and they showed up. I explained to them my predicament. I have a host of incredibly sick unforgiving women who chide me, tease me, scorn me and for whatever reason I feel obligated to try and make them laugh to only help others who have to deal with them in real life. I need a way to provide some humor to them because any day that I don't there is a chance for a PMS related homicide where ever they work and live. Even though they are completely disgusted, they understand.
Now, I sit here with one of those plastic helmets on connected with electrodes and touch sensors. I'm tapping the sensors with my head which moves a cursor on the computer screen to move one by one to each letter. Once at the correct letter, I bite down on the enter/confirm key. Do you see what lengths your depravity has driven me to!?! I have no arms, or one arm, or maybe I'm perfectly fine with two arms and just furious I am at work! But do you see what you are doing! I hope you all feel ashamed.
I could be typing with my feet. I could be typing with my feet because I have no arms or because I'm feeling adventurous. Either way, it is Monday and my sternal head is showing.
Quizzes! I thought I would take a quiz this morning. I thought maybe a personality quiz with funny results. If you remember, last time I took a personality quiz from Cosmopolitan magazine I was near suicidal afterwards. I was going to steer clear of the Cosmo and try something different. I found a website – www.gagirl.com – at first I read it as "Gaga Girl" thinking I found a kindred Lady Gaga inspired spirit. Alas, "Ga" is "GA" is "Georgia". It is "Georgia Girl"!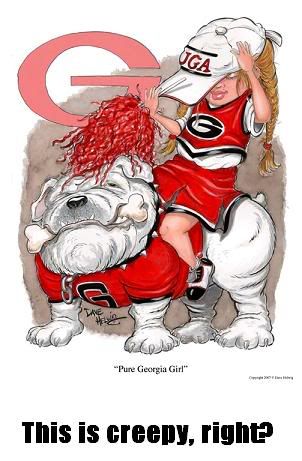 Georgia Girl likes to remain anonymous. There is no "about" or "who the fuck are you?" section I can find on this site. I will guess that this site is the maddening drivel of a very bored and lonely woman. The website says it started in 1997. OH MY GOD! That's crazy! Nothing still exists from 1997! Half of my readers weren't even old enough for cognizant thoughts in 1997 and the other half were probably just starting their second midlife crisis. The website looks exactly like it would have in 1997, which only adds to its genius.
The majority of the site is dedicated to the sappiest poetry about the sappiest subjects. Would you like twenty G-Rated/cry-yourself-to-sleep-after-inhaling-a-box-of-Russell-Stover-chocolates poems about hugs? Then today is your birthday because GA Girl's got'em. Outside of the poems, I did find an entire section of quizzes. Predictably most were unnervingly stupid.
A couple "quizzes" caught my eye. They asked one question, gave you a set of choices, and depending on which choice you made it gave you a mock psych profile on your decision. This is all phenomenally scientific. What candy bar would you choose? You chose a "Butterfinger", well then you are a kid toucher who wets his bed, but you have great conversational techniques, you drive a Ford and DVR every episode of The Soup. Nothing as specific as that, but that is the gist. The one quiz that I found the most "interesting" was:
What part of your body do you wash first in the shower?
Find out what it reveals about your personality by clicking on the name of the body part you wash first.
http://www.gagirl.com/quiz/shower.html
Fair enough. I have heard of them before. I have taken a few showers in my day. I think I could participate in this. The washing your body quiz has six archetypes: hair, chest, armpits, face, shoulders and other.  
Georgia Girl does not reveal her scientific resources, so we are supposed to trust her integrity and believe that all of this is 100% factually accurate. Whatever body part you wash first when in the shower speaks about your inner psyche and all of your darkest secrets and ambitions will be revealed. It's time for Sigmund Freud and Carl Jung to take a beat seat to the utter psychological brilliance of Georgia Girl's findings. Carl and Sigmund are probably making out in the back seat anyway, am I right? So let's not disturb them shall we.
Hair
Those who wash their hair first are the artistic type. Daydreaming is your hobby but you can achieve what most other people cannot. Dedication is lacking but you will work tirelessly towards goals which are to your liking. Money is not important to you. Friends are but only intellectuals and fellow artistic types. You make the best lover as you are most willing to explore and please your partner. Talent is your main strength. Your best partner in life will be those who chose chest.
See? This is going to be some good shit right here. Oh if you wash your hair you like to smile. None that bullshit is going on with Georgia Girl! She is cutting to the bone. My analysis of this analysis is that a "haircentric washer" is creative, but impractical, selfish with your projects, but give good head, you're an elitist, but isn't an asshole elitist like you only consort with rich people. If I had to take a guess, I think Leonardo DiCaprio washes his hair first.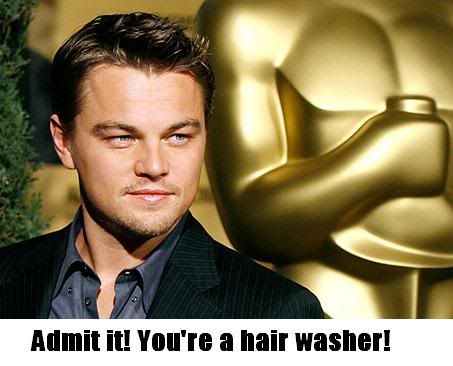 Chest
Those who wash their chest first are the practical type. You are straightforward and do not beat around the bush. To you, convenience is of paramount importance. You hate to be distracted when concentrating and are impatient with people who do not see things your way. You're a good lover and willing to try new things. Your best partner in life will be those who chose hair.
A chest washer is a pragmatist. I buy this hook, line and sinker. If the first thing you do when you get into the shower is to reach for the soap and not the shampoo or a specific face wash then I think generally speaking the chest would be where you start. Grabbing the soap first is all a pragmatist move. Even with all the special shampoos and face washes, the regular bar of soap or gel or whatever can be used to wash your whole body including face and hair if wanted. The chest is a likely place to start for the practical because it is the center, big surface area, it's the hub of your body.
None of these archetypes signify whether there is a difference for a man or a woman. I would tend to think that women with, how should I say, "grander" bosoms would start at the chest. Let's imagine, hmmm I don't kn- EVA AMURRI, let's imagine Eva Amurri (Susan Sarandon's daughter and the naked girl on Californication) is taking a shower….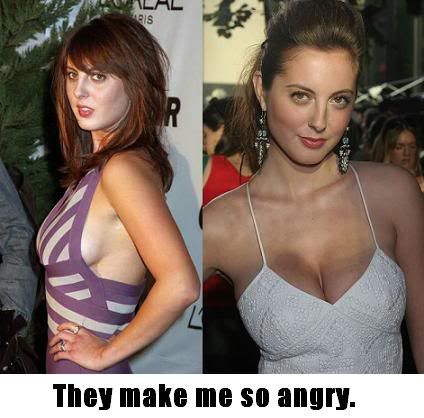 I blanked out for a few minutes. But I would imagine or I did imagine she starts by soaping up her chest. She gets "them" good and lathered. She'll spend upwards of 20 minutes or so getting a really thick soapy cleansing coat on "them". Then she'll rinse them off for another good 20 minutes or so. And then repeat with the soap and more rinsing until I CAN'T TAKE IT ANYMORE! AHHHH!!!!
Armpits
Those who wash their armpits first are dependable and hard working. Generally a very popular person as you are very down to earth and willing to help others. You tend to get yourself into trouble as you cannot tell whether people are genuine towards you. You are the working type with average talent. Your best partner in life will be those who chose shoulders.
Are they washing their armpits first because they stink from all the hard work they are doing? Meeting people is easy, but being "very popular" can be difficult and get quite a funk stewing in your pits. This is also a bit of quandary – they're dependable and hard working. So can I spot a dependable and hard working person if they have very clean armpits or is it the opposite – do they have really dirty armpits that they attend to first in the shower because of all the stinkiness they get into outside of the shower? It's a rough life for the armpit washers because of this never ending paranoia they are involved in worrying if a person is using them or not. Who knew?
I think Brad Pitt is an armpit washer first. Not just because of the "Pitt" and arm"pit". Brad is obviously very popular and he appears to be very down to Earth. He is a hard worker and he is willing to help others. Haven't you seen all the work he has done in New Orleans? That is typical armpit washer stuff right there. I don't know about this "average talent" garbage though. That's the only thing that doesn't make sense to me. He is a great talent. Brad has at least a dozen at least good-great movies. So my question is, what the fuck Georgia Girl!?! Obviously, Brad Pitt washes his armpits first when he gets into the motherfucking shower! But you're calling him of "average" talent! FUCKING RIDICULOUS! I'm FUCKING FURIOUS! "AVERAGE"!?! Fight Club, 12 Monkeys, Legends of the Fall, Snatch, The Assassination of Jesse James by the Cowardly Robert Ford, Babel et cetera! ET CETERA! Pfffft… Georgia Girl, I'll let this one slide, but don't you EVER say that Brad Pitt is "average" AGAIN.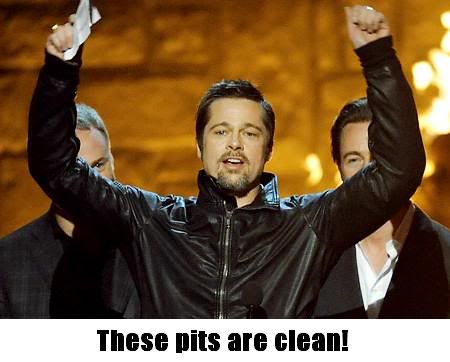 Face
To those who wash their face first money is important and you will do anything to get it. Integrity and dignity is not important. You feel that friends are there to be used and life is one big hassle. Other people find it hard to understand you but you are not concerned as to what they think. You are a very self-centered person. You're an average lover as you tend to be absorbed in self pleasure at the expense of your partner. Your best partner in life will be those who chose other.
Your best partner would be anyone fucking deranged enough to hook up with a face washing loser like you, you MOTHERFUCKER! Seriously, there is not one good trait offered if you wash your face first. If you wash your face first then you are the worst of the fucking worst apparently. Adolf Hitler washed his face first. Saddam Hussein washed his face first. It sounds like Jennifer Aniston washes her face first, which is why Brad and her and every other man cannot stay with her.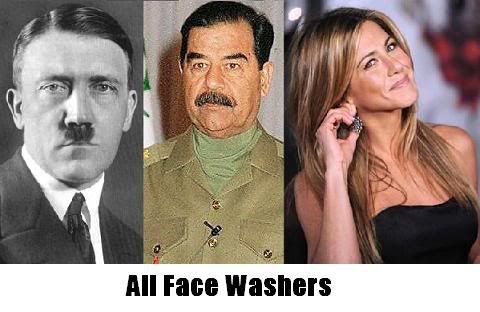 Is it just me or do you feel like Georgia Girl got wronged by a face washer? Like really wronged. Everything was all "good lover", "great lover", "dependable" and then face washing was brought up and it became "I HATE YOU, YOU WHORE! GO WASH YOUR FACE YOU SELFISH PRICK!" It got really real when face washing was brought up. I think Georgia Girl may need a few hug poems to get over this face washing first business. And if any of you are face washers first, I hope you are proud of yourselves because you are terrible fucking people. I'm sure you are proud because you are self centered and I would like to make it perfectly clear that everyone hates you. Hugs.
Shoulders
Those who wash their shoulders first are very responsible. You work hard at everything you attempt. People often think you're stuck up as you tend to spend your time alone. You are very dedicated and make friends for life once others get to know you. Money and power are fairly important to you. You make a faithful lover and tend to be faithful for life. Your best partner in life will be those who chose armpits.
This does not sound like Angelina Jolie, now we all know for certain that Brangelina shit won't last. Responsible, hard worker, stuck-up, loner, money and power are pretty cool, and faithful lover? Kevin Spacey? Kind of sounds like Kevin Spacey to me. Maybe Tom Hanks. Yeah, Tom Hanks works as well. I think Brad Pitt and Tom Hanks would be perfect for each other. Brad Pitt and Kevin did work on Se7en together. Maybe on set they realized they were perfect shower buddies/soulmates and they made out and stuff. Oh? Yeah, I'm supposed to pick a female for Brad, right? Sure….
Hmmmm… Hillary Rodham Clinton. If you change the "money and power are fairly important to you" to "money and power are VERY important to you" then I think Brad Pitt and H-Rod would be a great match. First, Brad – you're welcome. Second, could you send Angelina Jolie dressed in her Lara Croft Tomb Raider gear and minus her crazy amount of kids to Jersey City, NJ. Just have her go to the Newport/Pavonia PATH station. I can meet her there. I'll bring soap or flowers or something.
Other
Those who wash "other parts" first are very average. Undoubtedly, you have your inner strengths but people find it hard to see. You must learn to be a little bit more adventurous and sell your potential. Deep down, you are a very likeable person with very few faults. However, the key will be to make your strengths stand out and not just hide your weaknesses. You are an average lover. You have great fantasies about different techniques but unfortunately are not brave enough to try them out. Your best partner in life will be those who chose face.
HAHAHAHAHAH… "very average"? Brilliant! I love the idea of being "very" "average". Tremendous. You slay me Georgia Girl. Sure you may have some talent, I mean sincerely who the fuck knows what it is, but even if we did know you hide it anyway because you're a little scawdy cat. I think the "average lover" goes without saying if your first description is that they are "very average" entirely. A "very average" human being is hysterical! Even though there is no hate in this paragraph like the face washing one, there is definitely a disdain and clear bitchiness in this that makes it sound like Georgia Girl has no respect for "other" washers. I suspect Georgia Girl's most loyal friend is an even lonelier woman than Georgia Girl who takes a lot of emotional and verbal abuse from Georgia Girl. She probably spends more time with Georgia Girl than anyone else, but there isn't a single sober second where Georgia Girl would admit they are "best" friends.
Also, I sincerely love the idea that "other" is a category. What is "other"? First, I thought "balls"? Are we talking about people who wash their junk first? Their private parts? Their wackadoos and whootiewhowhoos? That could be. It could also mean "legs". Or feet or hands or elbows or stomach or butts. And all those people are "very average" and they have longing fantasies about using vibrating cockrings or 69-ing, but they are just gutless sheep who will bang away in a mediocre missionary position their whole life. Poor bastards.
So what am I?
Chest washer. I am the pragmatist. I get into the shower and grab the soap. I start up a good lather and slap it on my chest. I need to keep this sternal head clean and sparkly for dreary days like today.
Any hair washers available?
I lied.
I said that today's post was going to be me analyzing a bunch of Kristen Stewart pictures. This is where the lie comes in – today's post is not about me analyzing a bunch of Kristen Stewart pictures. That will probably be a post for next week. Awww I know. I'm such a bastard. I got everyone's hopes up for one type of insanity and instead you'll get another branch of insanity. Feel free in your disappoint to write terrible terrible things about me, but for love of God don't stop coming to this site. It is all I have. So what is today's post about then?
Today's post is a serious one. Today's post is about a nation divided. Today's post is about our dwindling moral society. Today's post is about the collapse of the modern family. Today's post is about the downfall of Western Civilization. Today's post is about the signs of our impending Armageddon. Today's post is about why God doesn't care anymore. Today's post is about the frailty of humanity. Today's post is about sadness. Today's post is about catastrophe. Today's post is about you and me and how we will never know true happiness. Today's post is about:
ICE CREAM
Or closer to the point, the lack of ice cream eating in this world. Everyday I peruse Google for Kristen Stewart pictures. I usually just type her name in and then click on the pages randomly. It is rare for me to know exactly what picture I want in particular because all I truly need is a picture of her "wanting it" and that is all pictures. But there have been a few occasions where I had a specific image in mind, for instance the picture of Kristen Stewart and her toy green gun jammed down the front of her pants. This time, I was looking for another specific image, but I was not sure if it actually existed: Kristen Stewart eating ice cream. And I couldn't find one.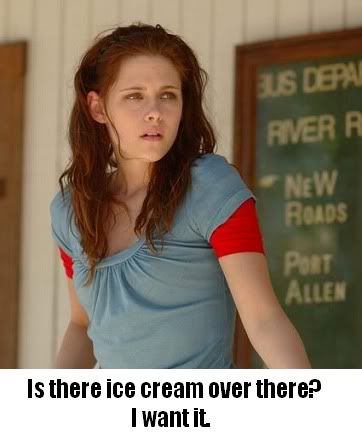 I came to a conclusion on Monday, while writhing around in pain from my hangover, that there should be more pictures of people eating ice cream. As my body tried to digest and filter out nearly a full bottle of vodka, several red bulls, and over a dozen beers, I fixated on that idea: where are all the pictures of people eating ice cream? Are people not eating ice cream anymore or is it that they are not willing to be photographed while eating ice cream? And when I mean people, I mean the real people, I mean celebrities. Let us tackle this issue head-on. We will do this together with me doing all the heavy lifting. You all will channel your collective powers into me where I will meld those powers with my power to become stronger much like Goku when he defeated Brolly in the 8th Dragonball Z movie (How smart could I really be? I watch cartoons.)
I can't find a picture of Kristen Stewart eating ice cream. What is this world coming to? There are literally millions of pictures of this girl doing everything from riding piggyback to pumping her own gas, but I couldn't find a picture of her eating ice cream. This is distressing. There are millions of pictures of Kristen and her damn mullet. There are millions of pictures of her wanting it in millions of scenarios, but not a fucking picture of her eating ice cream. Maybe my Google broke. I don't know. And I'm not talking about her eating ice cream in a movie. I want to see the real thing. I want to see K-Stew chowing down on some ice cream.
I thought with all the paparazzi out there taking pictures of Kristen Stewart all day everyday there had to be at least one of her enjoying some ice cream. Without any pictures of Kristen Stewart eating ice cream, what about other celebrities? There are pretty much zip. No celebrities eat ice cream. I typed in the names of some of the biggest celebrities in the business and was shocked I couldn't find pictures of them eating ice cream. It is ridiculous. How about Tom Hanks?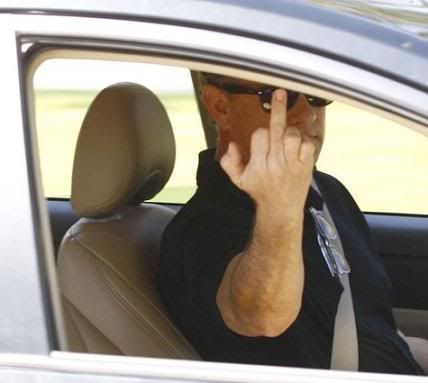 Nope. But there is that lovely picture. What the fuck, Tom? I can't find a picture of Mr. 2x Oscar Winner eating a double scoop, but I can find a picture of him flipping me off! This is bullshit. Hey, Tom Hanks, why don't you quit making shit pseudo-action movies about Jesus? And how about we sit down and enjoy some MF-ing ice cream. Huh? Do you not have time in your busy schedule of making priests as assassin films to eat some "Rocky Road" or "Cookies and Cream"? I can't believe there is a picture of him flipping me off and not one picture of him eating "Mint Chocolate Chip". Fuck you, Tom Hanks.
What about Tom Cruise?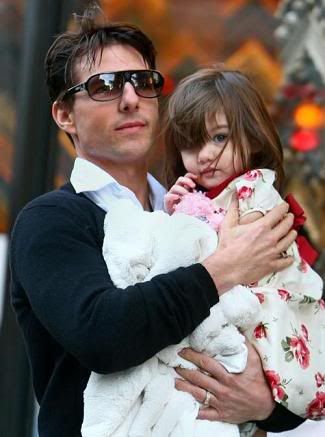 Nope. There are a ton of pictures of him and his daughter, Suri. She is a kid, right? Where is the God damn ice cream? I know we have a weight issue in America, but for fuck's sake get that kid some ice cream! Come on, Tom. I hate the paparazzi and I hate that they take hundreds of pictures of these people when they are just out spending time with their kids, but it is opening up my eyes that these kids are not getting any ice cream. Tom you have a beautiful healthy daughter with a precocious left eye and you have given her a much needed pink stuffed animal to play with, but where is the damn ice cream? Besides the kid, I bet Tom Cruise enjoys ice cream as well. Hey Tom, why don't you spoil yourself with some "Pistachio Almond"?
Also, this picture is adorable.
The closest I could find of pictures of at least Suri eating ice cream was there is this one with her mother, Katie Holmes.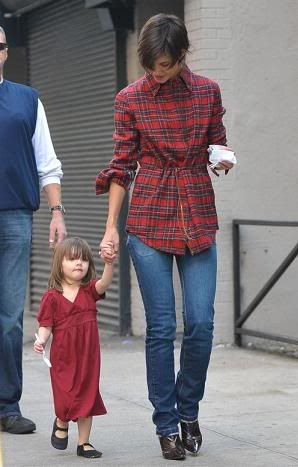 She has a plastic spoon in her right hand. In Katie's left hand appears to be a generic disposable paper cup/bowl. The elusive cup/bowl. I think we all know what usually appears in said cup/bowls: ice cream. It is two syllables and you know you love to say it. Ice cream. But we can't be sure. We can guess. We have circumstantial evidence that ice cream may be happening in this picture, but I don't think it is enough to go to trial with. Katie Holmes was good in Go! and she was naked in The Gift and it seems like she gives her daughter ice cream. I approve of Katie Holmes.
What about Halle Berry? One of the most (top 10?) attractive women to ever walk this Earth, are there pictures of her eating ice cream? I couldn't find any. But…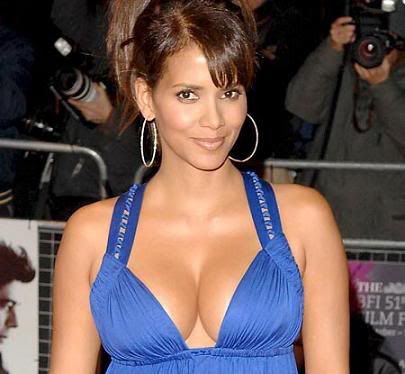 KA-BLAM! Who fucking cares about ice cream anymore after seeing that picture? It is just like POW! POW! When that picture hits your eyeballs. This picture is like one of those Magic Eye posters where if you stare at it long enough other images will come to you, namely Halle's face. I assure you that Halle's head is also in this picture. It may take a lot of time and energy for you to realize that, but it is there. Once you do see her face you will notice something about it besides how beautiful it is. She is not eating ice cream. I know! WTF! I am just as frustrated as you, if not more so. Halle Berry seems like a lovely woman who I would never be able to talk to because I would be frozen in a coma like state from how hot she is, but a lovely woman nonetheless who smiles and laughs. And I bet she likes some MF-ing ice cream. I would put money on it. I don't care if you are lactose intolerant, you can put some of that ice cream in you with a smile on your face. What about some sprinkles on top? (jimmies?)
What about Brad Pitt? Brad is a phenomenal actor. I know a lot of people don't want to say he is a great actor because he is so stupid handsome, but he is great at acting. I've said it before that I think Fight Club is perfect and he is a big reason for that. Needless to say, I'm a big fan. So, let's get down to business – where is the ice cream?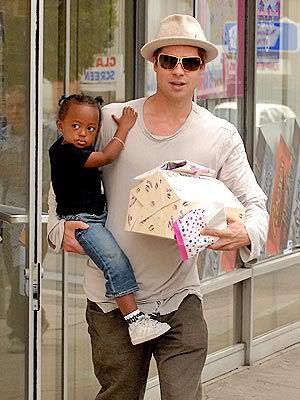 I don't see any ice cream and I think that is exactly what Zahara is thinking as well. I hope I got her name right. I had to look it up. I really don't follow tabloid or personal stuff with actors. I watch the movies and that's it, but anyway that kid wants ice cream. I know that. I didn't need a tabloid or Access Hollywood to tell me that. Hey, Brad. You're a great actor and arguably the best looking man of your generation, but have you ever heard of ice cream? You know it is usually in the freezer section of the supermarket. It is in so many flavors, you wouldn't even believe it. So, uh where is it? Why aren't you eating it? I'm not sure what is in that box (Awww! Come on! What's in the box!?! What's in the box!?!) or what is in that fancy wrapper in his hand, but it doesn't look like ice cream. I think Zahara is wondering "I have motherfucking Brad Pitt carrying me around, but no ice cream. Mr. $20 million a movie here hasn't mentioned ice cream once. He is walking around with that stupid hat and sunglasses, don't get me wrong he is pulling them off, but ice cream has not been brought up for a second." Again, I am 900% positive I've seen Brad Pitt eat ice cream in movies, but in real life I'm coming up short with visual evidence. Come on Brad, just a scoop of "Fudge Ripple"?
Sidenote: If you feel like you need to learn something from this blog, besides the lack of ice cream eating by celebrities and how terrible that is, then here is this fun fact: Pancho Villa didn't drink alcohol, he ate ice cream.
After all this searching (I searched about 10 other A list celebrities), I had a hard time find celebrities eating ice cream or even holding ice cream. I found a couple with an ice cream in hand or standing near an ice cream store, but none of them was diving into an ice cream cone like I wanted. But… I finally found one. I found one celebrity that is really eating ice cream. And it just had to be him too. I present to you the greatest celebrity of them all!
Arnold Schwarzenegger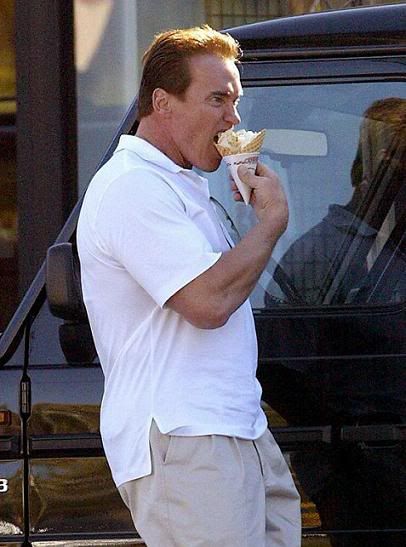 Fuck yeah! Look at him! He is fucking eating the shit out of that ice cream. He is enjoying the hell out of that thing. He is like elbow deep in that ice cream. It is a waffle cone! Arnold is no joke devouring that ice cream. This is priceless. I'm so happy and fulfilled knowing that Arnold Schwarzenegger is scarfing down waffle cones in real life. That isn't an outtake from Predator that is Arnold taking some personal time to tear into a waffle cone of ice cream. I love it. Doesn't it make you feel happy just looking at that picture? Look at him. His teeth are exposed and he is biting into that thing. I guarantee he is a happy former 7x Mr. Olympia Champion eating that ice cream. That ice cream is bringing joy to the Terminator's heart. Celebrities could learn a lot from Arnold Schwarzenegger and the first thing might be to enjoy some God damn ice cream out in the open like a normal human being.
And with that, what about Kristen Stewart? I think Kristen Stewart wants some ice cream. I know she wants "IT" all the time and that never changes. I think a little ice cream may help all that wanting. She has to feel burned out from wanting it all the time, I think some sweet ice cream may help her unwind. Sometimes you need to heal the temporal you and sometimes that medicine is ice cream.
It says a lot about how cynical society is today that it was hard for me to find pictures of celebrities enjoying ice cream. I think we as a people need to know how to relax better and spend some time together eating ice cream. Honestly, I can probably count on my hand how many times I have eaten ice cream this year and that is sad to me. Summer is officially over with Labor Day weekend long gone and I think I may have had ice cream twice (both were for someone's birthday). I see I'm not alone because it is few and far between with these celebrities and them eating ice cream. And ice cream is cheap. And there are more and more ice cream stores everyday it seems. For eff's sake there is "gelato". I don't trust gelato, but it is out there.
I know and we all know that Kristen Stewart wants IT and IT is more than just ice cream, but get that chick some ice cream. And take a picture of it.