Me? How was my weekend? How was my Halloween weekend you ask? It sucked. Thanks for bringing it up asshole. Seriously, you had to ask me how my weekend was. The gall you have. The GALL! To GAUL with you! I'm so pissed about your "gall" that I'm going to kick you in the gall bladder and then send you to the country formerly known as Gaul! And I'll bury you next to Charles de Gaulle aka the Snoo Tiger.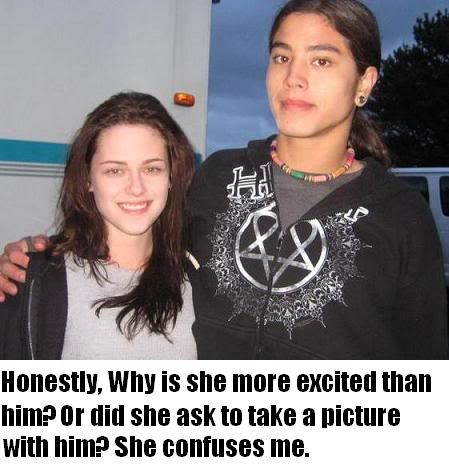 Speaking of Gaul, FRANCE! So, my weekend didn't suck. It was ok, but it wasn't as cool as laying around in a heated pool that I don't own in Los Angeles like the weekend prior. Nevertheless, my weekend or more matter of fact my Sunday was full of Gauls or Frenches. But before I get to Sunday, I should start with Saturday and Halloween.
I had no plans for Halloween night, dressing up, or anything. I am not a big fan of dressing up for Halloween. I am pro people being creative and thinking up interesting pop-cultural references for costumes. I am even more pro girls dressing up slutty in Halloween themed costumes or not Halloween themed costumes or in no costumes. So I'm pro the idea of Halloween, but I am not the biggest fan of getting dressed up myself. I hate thinking up a new idea and trying to be clever ….
That's a shitty excuse. I should just go as a knight every year. A couple years ago I bought one of those costumes in a bag that was a knight. So, I could've worn that. I even have a sword and sheath for it. A sheath I made out of duct tape. So, I have no excuse. Hmmmm… I'm lazy? I usually have a good explanation why I do or do not do things. I did have to wake up early on Sunday to yell at French people, more on that later. I didn't dress up or go out, but I applaud those that did.
I did feel guilty about not getting into the Halloween spirit. While grocery shopping on Saturday I succumbed to this guilt. I fell to my hands and knees because of this guilt. I groveled to the gods of Halloween and paid homage to them. I made a sacrifice. A sacrifice of commerce. I bought a ton of candy, a Halloween bucket (not to be confused with any ol' bucket, it literally said "Halloween bucket" on it), two fake jack-o-lanterns and some pumpkin beer. So here is what I did.
Make note this next paragraph will greatly help in your "operations".
I took the jack-o-lanterns and cut a hole in the bottom of each. There is a gate at the entrance of my building. I took the jack-o-lanterns and mounted them on two of the spikes on the top of the gate. I then took the Halloween bucket and filled it full of kahn-dee. I hung the bucket on one of the middle spikes. I don't think any parents would take their kids through the gate and ring the doorbell nor would I answer any doorbell that was rung. So I put out the bucket of candy and jack-o-lanterns as a signal to the world that I am participating in Halloween.
I felt good about this gesture. The jack-o-lanterns looked good. The bucket was about head and neck high. It was an easy take a couple of pieces of candy and move along situation. I was very nervous though and believed that humanity was worse off than I could ever imagine and that there were shady characters just waiting for me to turn my back to smash those fake jack-o-lanterns and to steal my bucket of candy. I can see the gate from my apartment windows and I was half planning on keeping watch like some crazed frugal elderly hawk. Do you know how much that candy cost whipper-snapper! $10! Back in my day we could have spent an entire summer in the French Riviera on 10 American dollars!
But I didn't. I trusted in humanity that nothing bad would happen to my purchases. There is a social contract that is formed on Halloween and unattended amounts of candy. Sure they could bend it a little and take more than they are supposed to, but nothing beyond that. I went inside and put away the rest of the groceries. The trash bag was full so I decided to take it out. About 9 minutes had gone by from the moment I hung the Halloween bucket full of candy and when I was back outside to throw away the trash. I immediately noticed that within those 9 minutes the Halloween bucket had been… DISTURBED!… or moved.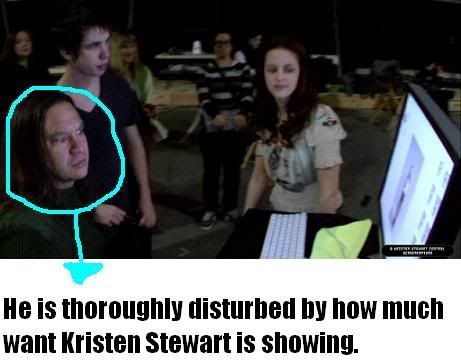 The Halloween bucket was now on a different spike. I strolled over to the bucket. I was a little happy maybe even whimsical at the thought that someone had indeed used the bucket. I was partially worried that no kids would even come across the bucket and I would be stuck with 60 some odd Reese's Peanut Butter Cups and Hershey Dark Chocolate miniatures. But no need to worry now, at least someone has used the bucket! I peered into the bucket and someone(s) did take candy from the bucket. Like all of it.
There was at best 8 pieces of candy left. From 60 to 8. Why even leave 8!?! What's the point? Do you know that your gluttony for candy is satisfied at 52 pieces of candy and you don't want to overdo it? I find it hard to believe that within 9 minutes there was a cavalcade of costumed chocolate craving children who all got their fair lot of candy. But I do believe one very selfish child, teenager or adult just took a shitload of my candy. I'm betting they gave a shrug when they left the 8 pieces of candy like "Well I'm taking ALL of the candy." Fuck you buddy and your shrugs.
I was despondent to say the least. I proceeded to cure this ailment with the way one should cure all ailments by drinking. I drank all the pumpkin beers. I also drank additional beers just in case. You know how if you get a sinus infection and they prescribe an antibiotic and after a few days you start to feel better, but the doctor recommends you take the whole prescription just to make sure? That's the logic I was going for on this. I needed to follow through with my diagnosis and treatment so I drank a bunch of beers and watched TV.
I'm not sure how long the Halloween bucket lasted after the 9 minute check, but it was gone hours later. I didn't bother to keep tabs on the Halloween bucket after the first rape and pillaging it received. But a few hours later I did happen to notice that the bucket was gone entirely. Fucking savages.
I guess there is the optimistic rationale that this person needed that bucket, maybe they collect buckets. Now they can cross that bucket off of their "bucket list". I didn't see that movie Bucket List, but I naturally assume the movie was about Jack Nicholson and Morgan Freeman collecting all the different types of buckets in the world. Or hopefully who ever took the bucket got hit by a car crossing the street. One of the other.
The jack-o-lanterns are still up and were unmolested. So the world hasn't completely gone to hell, yet.
As far as my Sunday, I went to the New York City Marathon. I didn't participate in it although I believe my presence did help inspire some of the competitors to finish the race and finish it with a greater zeal than they had previously entering the race. Dawgz's girlfriend ran the marathon and we went to support her. So Dawgz and I started the day off in Brooklyn around the 8th mile.
Like much of Brooklyn, the race itself was fairly unregulated in comparison to Manhattan. We did stop twice in Manhattan (83rd and 5th; 24th mile in Central Park) and the cops were in force with barricades and caution tape. In Brooklyn, at points the onlookers had taken over the street to such a degree I thought the spectators were going to tackle some of the runners intentionally or unintentionally.
A lot of the marathon runners have their names written or printed on their clothing. I could only assume it was so random people like me could scream their names as they ran by, which is what Dawgz and I did for the better part of 2 hours on Sunday morning until we were nearly hoarse.
"RON! YEAH!!!!"
"GO GET 'EM, JOE!!!!"
"ROLF!"
A mixture of enthusiastically yelling the person's name out and sometimes adding a motivational catchphrase was not only a crowd pleaser, but a runner pleaser. Most of the runners gave thumbs up or head nods. Most would smile or yell something back equally enthusiastic. Some didn't hear them because they had headphones on, but just felt the warm goodness of our words wrap around them like one of those tinfoil sheets they all receive after the race.
"KEEP UP THE PACE, ERWIN!!!"
"THIS IS YOUR RACE TO LOSE, DAVID!!!"
"LEAVE IT ALL ON THE FIELD, CAROL!!!"
"WHERE WOULD YOU RATHER BE, MARGARET!?!"
"GIVE 'EM HELL, STEVE!!!"
"MASSIMO, GET SOME!!!"
"SHOW 'EM WHAT YOU GOT, GRANT!!"
"YOU'RE DOING IT, ALEX!!! YOU'RE REALLY DOING IT!!!"
"PROVE THEM WRONG, SUSAN!!! PROVE THEM ALL WRONG!!!"
"I'M BETTING ON YOU, CAROLINE!!! YOU'RE GOING TO WIN!!!"
"THEY ALL DOUBTED YOU, MICHAEL!!! BUT YOU'RE THE ONE DOING IT!!!"
Add in the occasional, WOOH! or YEAH! and you are having a fun morning of positive reinforcement yelling no matter what. The funniness was only multiplied by the fact there were so many foreign runners. It was ridiculous. Every four people must've been from France. Either they had "France" written on them or they had the French flag painted on their face or body or were running and eating a baguette. Whatever they were doing there were tons of French people everywhere. Like everything else in life, second to the French were the Italians. So many people wearing "Italia" t-shirts.
If you were in France yesterday then you should've made your move. All the runners of France, amateur and professional, were in New York City. You should have stolen everything your heart desired in France because no one would have been able to catch you in a foot race. Same goes for Italy. My estimates may be a little off, but I'm pretty sure at least half of their populations were represented in the marathon yesterday.
Outside of smelly foreigners, there were also a bunch of people dressed in costumes like The Flash, Batman, a series of clowns, a Native American Indian, a bunch of kilts, a few ballerinas (male and female), bananas, and so forth. There were some flamboyant no t-shirt, but a ton of chest/back hair guys who were all crowd pleasers. Since I was able to see over much of the crowd, I would usually announce when a no t-shirt guy was approaching to make sure everyone paid attention.
After the 24th mile, we tried to get to wherever the finish line was. We then proceeded to get lost in Central Park for an hour. That was not fun. Not only is Central Park confusing, but parts of it were blocked off so you needed to find alternate routes. As far as I could tell, everyone was lost in the park and I think there are people who currently are still stuck in the park. I was getting frustrated and was willing to give up altogether when we eventually settled on never leaving the park.
I started taking note of where I would set up camp in the park and where were the driest leaves and branches to start a fire with. I would have fashioned spears and arrows out of tree branches. I would have set-up snare traps with my shoelaces to catch squirrels. I wouldn't be proud of it, but I would immediately turn to crime. I would mug people who fell into my realm. I would form a gang of fellow muggers and homeless park people. We would rule all the underpasses and dead ends throughout Central Park.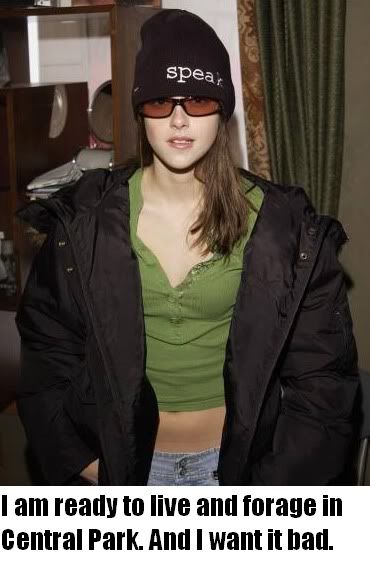 I would be the leader of this gang because of my vision for the future of the gang: expansion, new headquarters, better weapons, monotheistic religion. I would unify them under the written word of the true lord, obviously Kristen Stewart's want. We would be a socialist sect and would share all the treasure of our muggings. But I would be the leader and I would secretly hide away more for myself. Slowly I would amass superior weapons and money to the rest of my underlings.
After gaining the sufficient necessities, I would begin my journey back into the good graces of humanity. I would become the Central Park vigilante and dispense justice as I saw fit at night against the vagrants and criminals I once associated with. I would know the inner workings of this crime element because I started it and I would proceed to undo it bit by bit.
Once I rid Central Park of all the evil extremist Kristen Stewart muggers, I would be given a medal by Mayor Bloomberg and hopefully a clear map of how the fuck to get out of Central Park when you are stuck on the West side of the Boathouse!
Thankfully, we did get out. I survived. I survived so I could wake up and go to work today. Great decision. So how was your weekend?