But the show is still called…
The Jersey Shore!
And I love it.
Today is Thursday aka Jueves aka Thursday, that means nothing else to me these days than a new episode of The Jersey Shore is on at 10pm (EST mofos aka "the correct time" aka I don't have time to figure out what individual hours this show comes on for each one of y'all and your imaginary hour schemes). I have mentioned The Jersey Shore once I believe this season and, of course, that is just not enough. Besides being one of the most popular television shows out there, the characters from it are crossing every line of popculture decency with Snooki having a flirtatious relationship with Arizona Senator, former Presidential Republican nominee, plain old ass man John McCain.
Needless to say for the hundredth time, I love the damn show. Love it. I first became enthralled by the show before I even saw it. When I heard there was an MTV reality TV show being set in Seaside, NJ on the boardwalk I was already sold. I have experienced the wildness and the wilding that occurs during the summers at the bars in Seaside on the boardwalk and at the dance clubs a hundred feet off the boardwalk. It is just madness. But it is a fun type of madness because whether or not I dress or look or act like any of the other people frequenting these places of alcohol business and loud music everyone is there for a good time. By far most of the people there are not from the Seaside or the surrounding areas. These people traveled to Seaside to get drunk, dance and hit on slutty chicks who are also getting drunk and dancing. So, I loved the idea of the show to begin with, but the show sold me from the first moment one character in particular opened his mouth and gave us all a peak into the inner workings of his juiced up meat head mind: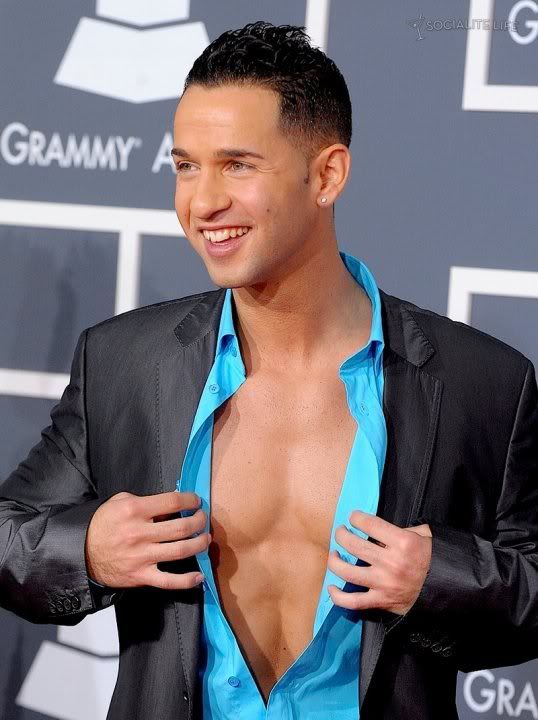 BOOM! The Situation! Mike "The Situation". Brilliant, just fucking brilliant. They have paid writers and directors and producers and consultants and thousands upon thousands of people in the entertainment industry to create a character half as good as "The Situation" and most have failed completely. Every episode of last season had some highlight or another from The Situation. That first episode of The Jersey Shore was hysterical and it was almost completely because of The Situation. Immediately, people were talking the next day about these people and through repetition and taking his shirt off every 2 seconds, The Situation was hands down the name everyone remembered the most.
Throughout last season and into the first few episodes of this season, people have gained a fondness for another character or for multiple characters, but it was The Situation who started and continues to make it happen. I've heard a lot of people say they are big fans of Vinny right now. Yeah, Vinny is great. I won't deny that. But Vinny is a nice hidden gem b-side of an album you bought because you heard the hit single on the radio. The hit single is The Situation. You only know who Vinny is because of the attention grabbing nature that The Situation brought to this television show.
Because of all this, when I noticed that The Situation had a fan page of Facebook – I joined. That was awhile ago and this "friendship" or "like-ship" or whatever has paid off. The Situation has some hysterical Facebook updates sometimes with pictures, sometimes with videos, sometimes just musings from what has to be a brain nearly suffocated by tanning spray and hair spray fumes. Meanwhile, other The Jersey Shore cast members have pages as well, but they have no enthusiasm for them and are most likely run by some MTV or consultant intern. Snooki clearly runs her own twitter or however she communicates, but it is just idiotic ramblings. I don't want to read her thoughts on Obama. The Situation isn't talking about Obama unless he is inviting the President to a dance party he is hosting in DC. That is why The Situation is the best.
The Situation posts pictures – lots of them. Vinny has two pictures on his Facebook page. Two! The Situation has 101 pictures on his Wall. I'm not talking about profile pictures or separate galleries he posts (which he does) – I'm talking about Wall pictures. I'm talking about "here I just snapped this photo for you and thought you should see it immediately – SiTcH" out of the kindness of his heart Wall pictures! So, I grabbed some of my favorites including the picture above. Let's talk about the pictures and my thoughts on The Jersey Shore.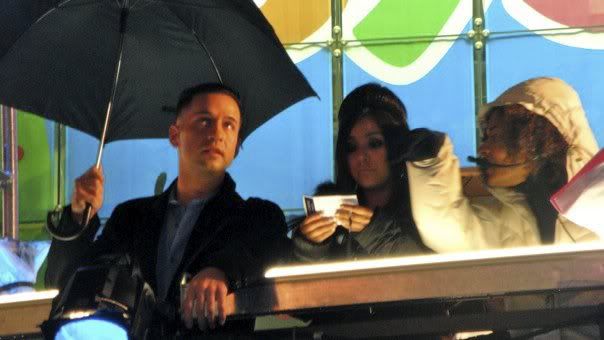 Amazing. This is exactly why I hate umbrellas. There is no way you can look at this picture and not immediately think that The Situation looks like a sissy holding this umbrella. Holding an umbrella is about the least manly thing to do ever. Even when holding an umbrella for a woman is lame. There is no tough way to hold an umbrella. If you hold it by the handle you look like an ultra-sissy, if you hold it on the metal rod you look a little less sissy, but then you look like an idiot because there is a perfectly acceptable handle right below your hand. I blame Mary Poppins. I don't know why she gets the brunt of the blame because she didn't invent umbrellas, but there has never been a time when I've used an umbrella where I haven't thought of Mary Poppins and how idiotic I feel holding an umbrella. And umbrellas are an imperfect piece of technology. Sure it protects you from the rain – if that rain is falling straight down – but it sure as hell cannot stand up to a single gust of wind. You could spend $1000 on an umbrella and if any wind with some mph in it comes through – your umbrella explodes.
HEY OH! Yeah, this is more like it. I would imagine this happens to The Situation about 3 times a week. Although, generally they are not famous or hot girls doing this…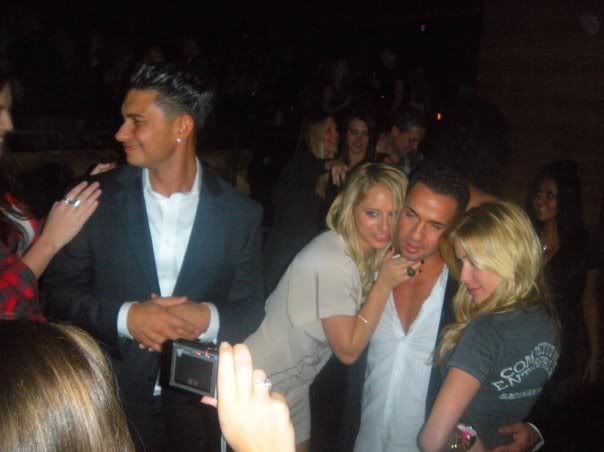 Yes, that is Kristin Cavallari from Laguna Beach and The Hills fame. The other girl is one of Kristin's friends who seemingly is the only one of her high school classmates that doesn't have their own show on MTV. I absolutely love the fake-smile on DJ Pauly D's face. I don't want to sound like I only like The Situation. I am a big fan of every person on The Jersey Shore. Well, I'm not a big fan of Sammi, but she is brilliant in her own way. The way she has hypnotized that mini-hulk Ronnie is just spectacular. Angelina kinda sucks too, but she seems to be the promiscuous type and as a single male I have to respect that.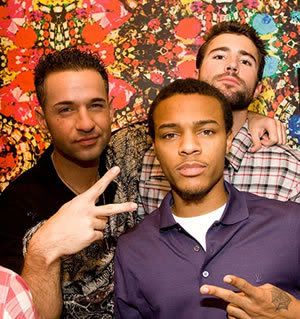 Yes! Yes! Yes! First of all, you didn't think Kristin was the only member of the OC celebrity contingent who wants to hang out with The Situation? Brody Jenner, son. Bow wow, son. The title of this picture on Facebook is:
The Sitch – Bow wow – n Brody Jenner – Vegas Baby
I couldn't have said it any better, Sitch. Where the hell in "Vegas Baby" is this? The three of them look blunted and well they look real blunted. I can almost understand The Situation hanging out with Bow Wow… almost – they're both celebrities, right? I can understand Brody Jenner hanging out with The Situation because their "jobs" seem to be making appearances at bars. But I can't understand them all being together at the same time and taking a picture together. And as blunted as they are, look how into the picture The Situation is. Bow Wow has been in the rap business for awhile, so being blunted and in front of people isn't new to him. Brody looks wary of this whole operation. But Sitch doesn't care. He could have a gun to his head and knife to his testicles and he'll smile for the camera or make some "blue steel" face or point or do something because the man is fucking selling it every second of the day.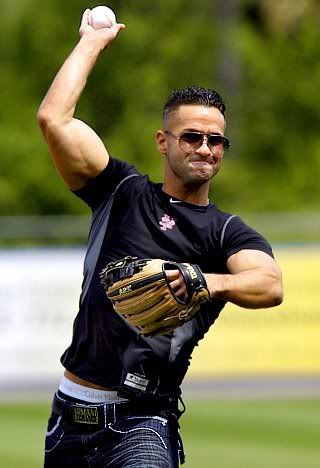 Wow, this does not look natural. Throwing a baseball is not something The Situation is used to do doing. But he looks like he is going for it though. His face is straining, his steroid arms are flexing.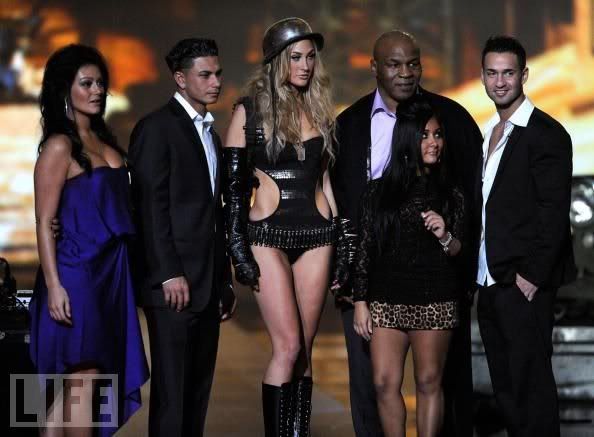 This picture looks even more unnatural than the picture before. We have J-Woww, DJ Pauly D (of course), a 6'2″ blonde model in a sexualized World War I inspired swimsuit and bullet belt, "Iron" Mike Tyson,  Snooki, and The Situation. Even better is the stamp approved "LIFE" in the corner telling us that it was in fact the American institution Life Magazine that is responsible for capturing this truly wonderful moment. Thank you Life.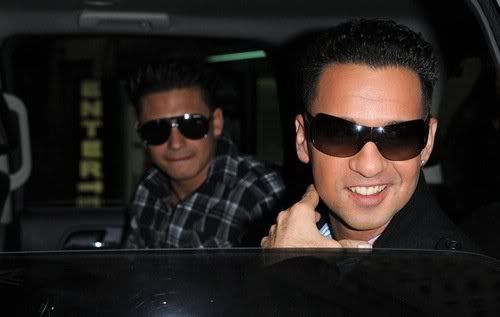 GLORIOUS! Fucking GLORE-EE-YUS! I would love to hear someone explain to me why this hasn't been made into a buddy cop film. Did anyone see Cop Out? If you did then you made a mistake with your life. Did Kevin Smith really need to pay Bruce Willis and Tracy Morgan to make a shitty buddy cop movie? Did whatever studio really need to pay Kevin Smith to make a shitty buddy cop movie? No. The answer is no. This right here is your buddy cop movie and no need for a script because these two can improv the whole film.
I have a theory that if you zoom out far enough on any pictures of Michael Jordan you will find Charles Oakley. I have a similar theory that if you zoom out far enough on any pictures of Michael "The Situation" Sorrentino you will find "DJ Pauly D" Paul DelVecchio. And for good fucking measure! Charles Oakley is Michael Jordan's bodyguard and has been since they played together in Chicago many Moons ago. Pauly and Sitch have realized something a lot quicker than any of their castmates and that this is their shot at making it. Not only are they getting paid to have fun, but they can use this celebrity to create businesses around themselves. They try to stay positive on the show, they try to keep giving the cameras what they want and even more so why shouldn't they? Seriously, Ronnie is missing out huge by being a complete moron on that show. He spends all his time either with boring ass Sammi or getting faced and looking like an idiot because of her. You can't start a career with that. DJ Pauly D is an actual DJ and he is getting paid a lot nowadays to DJ because of this show. He is getting paid on the show, getting paid to do appearances because of the show, and his regular "job" being a DJ now costs people supposedly high 5 figures for a week of his "work".
Snooki is trying to capitalize on this as well as J-Woww, but they're not doing great jobs at it so far. They're all making money on club appearances and pretty much all of them are starting clothing companies. Meanwhile, The Situation and Pauly were on Reebok commercials! That is a lot bigger deal than anything else the others have done.
Also, The Jersey Shore kids re-negotiated for more money, SUCCESSFULLY I might add, for the third and fourth season of the show. That is a great job by them. Supposedly, they are getting $40k an episode. That's not millions of dollars, but that is a lot better than any critics would expect a bunch of dance club rejects to be making on a show that is about them being dance club rejects. The kids from The Real World are not making $40,000 an episode and for good reason.
I am only making an assumption on this, but I would credit this bump in pay to The Situation. I would be shocked if he wasn't one of the founders of the idea they should get more money an episode and figure out how to do it. The guy is a natural salesman. And it also feeds straight into my idea that the roles of the characters in The Jersey Shore remind of the characters on Friends. Clearly, The Situation is Ross. Mike Sorrentino is David Schwimmer.
I have no idea what this collage of pictures is trying to tell us, but it is mesmerizing. The Situation, Snooki doing a hand spring and Rob Dyrdek dressed in an all white suit, bow tie and hat. I love it though. I've read that Snooki was a cheerleader in high school and that's why she knows how to do these tumbling dance moves. Also, the difficulty has to be a higher with the leather pants and the Ugg boots. Also also, it appears that this is happening in the middle of the day outside somewhere.
Wow. I've learned so many things from looking at this picture. One – Lance Bass is taller than Pauly and Sitch or he has high heels on. As far as I know Lance Bass isn't too tall so I'm far and away taller than Pauly who is the tallest person in The Jersey Shore house. Two – The Situation is always selling it. Always! Who knows why he is pretending to shoot the camera like a turn of the 90′s gangster from Boyz In Da Hood, but he is and thank you for it. Three – Jamie Lynn is one of those rare girls who is really hot and is completely oblivious to it. She dated Turtle! And she is hanging out with Lance Bass and Pauly and Sitch. I don't think The Situation or Pauly hooked up with Kristin from The Hills and I'm not going to say they hooked up with Jamie Lynn, but I bet they had a pretty fucking good shot at hooking up with her over Kristin. She dated Turtle.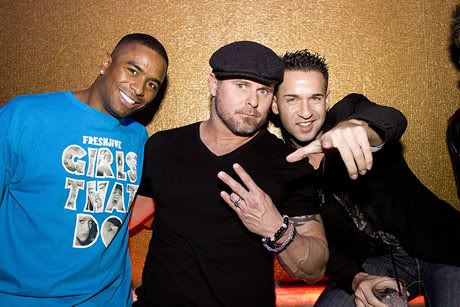 Oh man! Javon Walker. Wow. I have to mention him first because the next two images are so astounding that I'll never get to Javon. Javon Walker is also a professional athlete. Nevertheless, that is Jason "Admitted taking steroids and still plays professional baseball for the Colorado Rockies" Giambi….. and for some unknown beautiful reason he is throwing up "the shocker". I love it. Who knows!?! BUT I LOVE IT! Also, The Situation is shooting and killing us again. This seems to be his move. Got to love the intense stare on Giambi's face. The Situation is hammered and having fun. Javon Walker looks sober, but amiable. And I truly believe given the opportunity or not, Giambi is going to try and "shock" you.
I hinted at it – The Situation is Ross. There are more people in The Jersey Shore house than Friends, so there is some double duty being done. The Situation is Ross because he is a stalwart and a leader. Pauly and Ronnie are sharing the role of Joey – muscle head Italians. Vinny is Chandler – witty remarks and Vinny even does impressions. As for the girls, J-Woww is Monica. Monica was Courtney Cox, right? Either way, she is tough and mouthy. Snooki is Phoebe – always good for a laugh and is just living on a different planet mentally. And lastly, Angelina and Sammi are both trying to be Jennifer Aniston and failing miserably at it.
At this point, you're probably thinking – "Ok, I get it. These pictures are funny. You are really funny, but how much longer can this go on for? It's been 2500 words about this jackass from that stupid show and…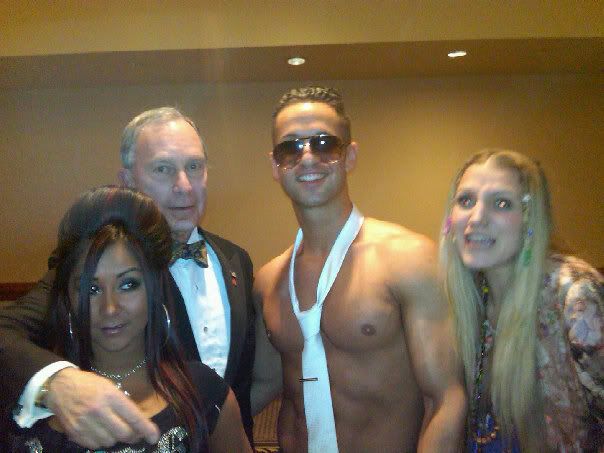 YES! YES! THE WORDS! I cannot find the words to describe this picture! FUCK this picture is amazing! I love America! What in the hell is going on in this picture? I have no idea, but it is so beautiful.
From left to right -
Snooki, Snooki almost being groped and kind of being into it, New York City's Jew Billionaire Former Republican Current Mayor Mike Bloomberg in a tuxedo, The Situation shirtless with a tie and sun glasses drunk, and some space hippie chick from the 70′s who time traveled to this exact point in the universe to complete the most random picture ever. What event could they all have been at that this would ever happen? Oh man, but thank you Jesus and all the multi-armed Hindi Gods for this one. Whew, that is just brilliant.
In conclusion, The Jersey Shore rules – The Situation is the backbone of its brilliance – friend him on Facebook because it is a gift that just keeps on giving.