That's right. I'm talking about Russia.
I have noticed that some of you have noticed that I like to throw in some international references in my posts, maybe a splice of foreign (anything not in the USA… USA USA USA) language here and there. Also it was noted that I had used a lot of French references lately. I didn't want to make it seem like there was any bias. This website is for all countries because Kristen Stewart's want is for all countries. I think I clearly got the ball rolling in Germany by talking about Eva Braun and I have made several references to Nazism in other posts. I can't remember a single thing of consequence outside of Nazis, the Holocaust and losing two World Wars that Germany ever did, right? Anyway, I thought since this week seems to have been quite a dividing week among the KSWI faithful, I would try to bring everyone together just like the great continental uniter: Russia!
What's so great about Russia? Everything…. minus all the poverty and political assassinations.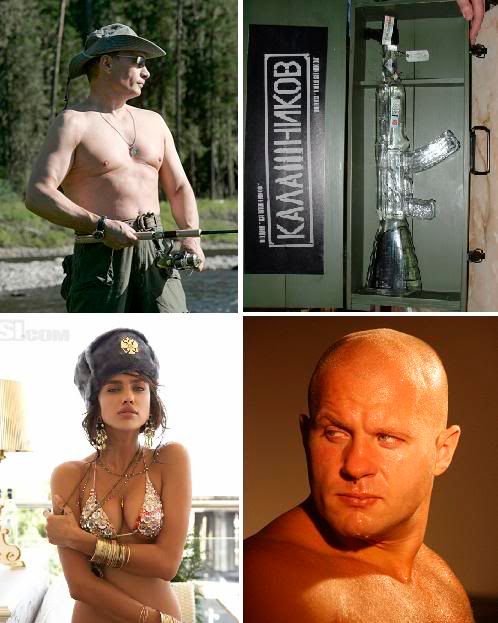 Clockwise from the top-left (unless you are upside down, bottom-right): Vladimir Putin, Irina Shayk, an AK-47 filled with vodka and Fedor Emelianenko.
Vladimir Putin is the visible invisible hand that runs Russia. He is a very controversial figure because he seemingly ordes the deaths of any dissenters in Russia, but come on the dude isn't wearing a shirt. How can you not love that? He is the political leader of Russia, he does judo, he goes fly fishing with no shirt on and also rides horses with no shirt. Don't we usually have to buy tickets to see a "gun show" like that, am I right?
Also these assassinations sound pretty cool as long as they don't come after me. People are being poisoned, people are getting shot, rumors of someone getting a microscopic atomic bomb injected into them and then set off inside them. That link was a not a picture of a microscopic atomic bomb, but instead was Irina Shayk's lovely ass and when I look at that picture it makes me feel like an atomic bomb went off in my pants. Megan Fox, who?
Russia also made the AK-47 and, honestly, where would modern America be without our assault rifles? As for the vodka. You put it in a glass, drink it and your problems just seem to solve themselves at that point. It is a crystal clear miracle worker. Lastly, Fedor.
Fedor Emelianenko is the greatest Heavyweight fighter in the world and the greatest fighter of his generation. I know I'm primarily talking to a bunch of women who most likely don't watch "the fights", but if you told a guy, like a real guy who likes/does guy things and doesn't sit around giggling about what a bitch Katherine Heigl is or who he thinks is going to win Dancing with the Stars… Mark Dacascos is going to win, that Fedor Emelianenko is your favorite fighter and he would kick Brock Lesnar's ass. That guy would cut off his own arm and propose to you with it as a token of his love. Or at least I would.
Back to the topic at hand, let's learn about Russia and Russia wanting it.
Catherine the Great
Catherine the Great didn't fuck a horse. Or at least there is no evidence to prove she fucked a horse. I was going to write this whole thing about Catherine the Great and not mention once the idea that she died having sex with a horse or just had sex with a horse in general and went about her merry day. At the very end of the post I was going to say something coy like "over 1000 words and I didn't mention Catherine the Great effed a horse." But who is fooling who anymore? You ladies at KSWI want the dirt up front.
Sidenote: Here is an early portrait of Catherine, Peter III and their son. Is it just me or does the son look like he wants it the most?
Catherine the Great was born in 1729 and died 1796 most likely from a stroke in her bathroom. Catherine, whose real name was Sophia and wasn't all that Russian, married Peter III who succeeded to the throne as Emperor of Russia in 1762. Only six months later Peter muffed up being Emperor and the Russian Imperial Guard revolted, kicked Peter off the throne and put the 33 year old Catherine into his place as the M-F-ING RULER OF RUSSIA! Can you believe that? What a crazy unlikely story? Talk about women's lib, right? That's incredible and all, but did Catherine the Great want it?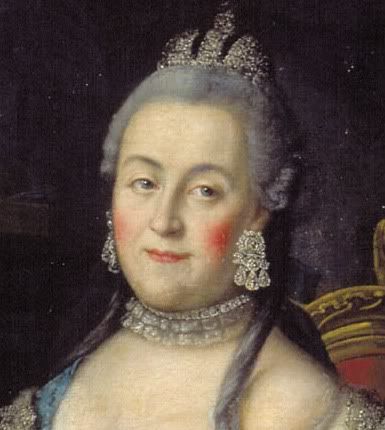 Fuck yeah she did. Seriously look at that regal woman. She wants the shit out it. That right there is the look of a woman who wants it so bad that she makes herself the protectress of the Poland-Lithuanian Commonwealth and would smash all the anti-Russian uprisings that came from it. That right there is the want of a woman who can fight a war against the Ottoman Turks and still beat the piss out of the Swedes with her Baltic Fleet.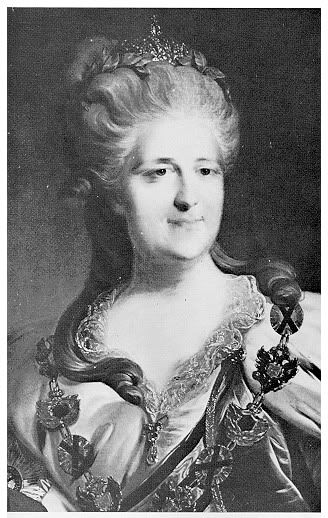 That is an arrogant want right there. Catherine the Great totally wants it. Catherine the Great wants it as badly as Russia defeated the Ottoman Turks two times under her reign which was really badly. That was a huge deal like Kristen Stewart being a relatively unknown actress scoring the lead role in Twilight which was an international success and then being kept on as the star in the sequel which will be an even better movie and a bigger success, that was me stretching and trying to kiss up a little in the spirit of uniting like Russia does.
Catherine the Great seriously wants it, but as always she does not want it nearly as much as Kristen Stewart. Catherine had an insatiable appetite for men (and food, she got kind of heavy at the end, just thought I would make the joke before any of the commenters had the chance). Catherine had many lovers and she had her own match.com service named Grigori Alexandrovich Potemkin. They had an affair first, but then he became her talent scout of the male Russian elite. He would hand pick a good looking and intelligent guy who would presumably be able to hold Catherine's interest for a little while until she got tired of him. I'm guessing this morning you didn't think Catherine the Great was your personal hero, I'm betting she is now.
Catherine getting tired of these men is where Kristen Stewart easily defeats her. Catherine has an immense want not unlike the extended size of Russia when she was Empress, but eventually it does lax and cool and gets bored and needs a fresh face to feel that want again. Kristen Stewart wants it. Her want never lessens and it certainly does not need a recharge. She continues to want any and all things with the strength of a 1000 suns. Kristen Stewart wants it. She wants it all.
Leo Tolstoy
Leo Tolstoy doesn't necessarily want it. I am not bringing up Tolstoy to talk of his want. He did have an insane life (at one point seconds away from being executed) that he had to have an almost inhuman drive in him to survive. Regardless, I am bringing Leo Tolstoy to the table because I really want to talk about War & Peace for a minute. I have read War & Peace. I may not have watched Twilight with the sound on, but I fucking read War & Peace so get off my back.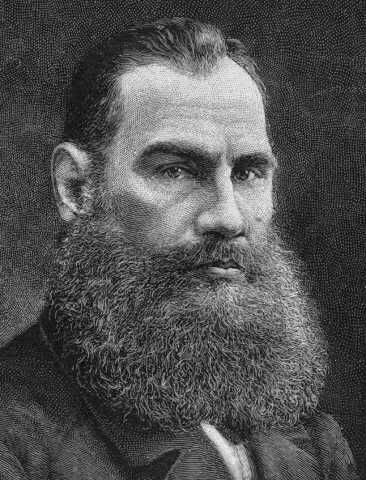 War & Peace is arguably the greatest book ever written and, obviously, I have ever read. This is more of a PSA than anything, but I think you all should read War & Peace. If you have read War & Peace already then I will say this:
I can picture making War & Peace as a faithful hour long television series for someone like HBO. There are roughly 375 chapters including the epilogues. Imagine on average you devote 5 minutes to each chapter. Some chapters wouldn't need 5 minutes and others would need more so there is the balance. A sidenote, an average scene in a typical movie is only 3 minutes so I am overestimating because of the brilliance. Back to the math, 375 chapters multiplied by 5 minutes each equals just shy of 32 hours. If we did three 11 or 12 episode seasons it would easily be handled with time to spare. Now that the time parameters are set-up, we just need all the money in the world for the sets, hundreds of actors, battle scenes, wardrobe, and just about anything else you would need to bring the greatest epic written to life.
For those of you who have not read it:
Fucking read it. What is wrong with you? Quit wasting your life already. It is War & Peace! It is full of stories about love, drama, death, passion, seduction, betrayal, philosophical discussion, political intrigue, and it is funny. You may not believe the last part, but it is very funny. The first 20 some odd chapters take place at a dinner party where they get drunk and kiss and talk shit on each other and stuff.
Where does Kristen Stewart fit in all of this? Sonya.
Boom. I think for any of you that have read War & Peace your brain was just blown out the back of your skull like Vladimir Putin sent the KGB to assassinate you with truth bullets. If I was going to cast War & Peace with American actors and not actors from I don't know let's say "RUSSIA" then Kristen Stewart would top my list to play Sonya.
Ahhh… Sonya the "Sterile Flower". Sonya is a sad, but beautiful character in War & Peace. When I think of Sonya, I think of her want. Now it should make sense. Sonya is the cousin to the Rostovs, who as a family are a main focus of the novel. She is treated like a second class citizen by the mother Countess Natalya, she is the dutiful best friend to the daughter Natasha, and she is the one and true love of Nicholas the son. Sonya wants to be a Rostov so bad. She spends the entire novel defending them, sacrificing herself for them and ultimately never receives any payment in return. She is a tragic character in the book because her selflessness in never ending. She waits and waits for Nicholas even though his mother is completely against the idea of them being married. And Sonya has suitors in the book who love her. She sees their affection and wants to reciprocate, but she has given her heart to Nicholas. She wants Nicholas. She wants to be a Rostov. She fights for them and tries her best to protect them like sleeplessly staying in the hall outside of Natasha's door making sure she doesn't runaway with Anatole. Damn you Anatole!
Also there is a scene where Sonya dresses up in a Halloween costume as a boy with a mustache and makes out with Nicholas. I'm guessing K-Stew fans would want to see that.
So… who wants to give me money to make this?
Say something sexy in Russian
Kristen Stewart хочет это.
Fuck yeah. Nothing sexier than the Russian language, but there is it folks. Kristen Stewart wants it in Russian. Or at least, I think it is and that is all that matters, right?
Kristen Stewart хочет это.
To pronounce it, I believe it is:
Ker-iz-ten Stoo-wer-tuh k-oh-ch-yay-t eh-toh.
Learn it. Practice it. Live it. Kristen Stewart хочет это. Kristen Stewart wants it. Kristen Stewart's want is glorious. It fills the divide between us. It will heal us as a people. I've seen that Kristen Stewart's want brings us all closer together as a human race. People out there, people outside of this website need to harness the love for Kristen Stewart's want for good. They need to use it to unite all of us.
Imagine Barack Obama went to Russia and stood on a grand stage in the middle of St. Petersburg and said "Kristen Stewart хочет это". People would go fucking nuts! Yes! She wants it! We live in Russia and we know she wants it! Oh my God there is such poverty in this country and we have lived through such terribleness and we are all scared about being killed by that shirtless strong man Vladimir Putin, but, Jesus Christ, Kristen Stewart wants it!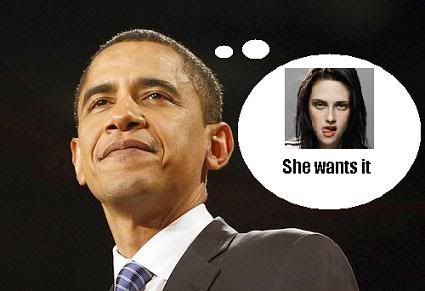 Or at least half of them would say that. The other half would have no clue what is going on. But there would be a big screen on stage where they roll a montage of Kristen Stewart pictures and written underneath each one is "Kristen Stewart хочет это." And in that moment, about 4 or 5 pictures in, they would all realize what the others had: Kristen Stewart does want it. And they would all live happily ever after. Or not. I don't know what is going to happen to the people of St. Petersburg.
Don't be surprised if what I describe above happens. There is not not a rumor going around that Barack Obama reads this website regularly at lunch with Michelle. I'm just saying, Barry knows Kristen Stewart wants it.
So, yeah. Russia. It kind of rules. This post is the size of Russia.