I've done this before, so I'm doing it again.
I am taking the top 10 trending topics on Yahoo and I'm going to do two things to them:
1. Gentle kisses.
Actually, scratch that. I will do three things to them:
1. Gentle kisses.
2. Guess why they are trending without looking up why they are actually trending
3. Explain how Kristen Stewart would defeat them in a prison yard shivving contest.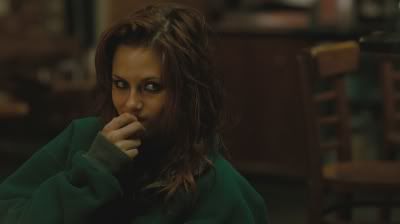 But, before I do – I just wanted to mention that this is Breast Cancer Awareness Month, which is why you may be seeing more boobs than usual. Oh man, I hope you are seeing more boobs than usual. Honestly, who is really against that? Just seeing more boobs than usual? That's like getting a little bit more on your paycheck than usual. And money can't buy you happiness, but boobs can and boobs you can buy with money. Anyway, Breast Cancer Awareness Month, our planet's President Barack Obama tweeted thus…
@BarackObama: In support of Breast Cancer Awareness Month, the White House will be lit pink tonight at 6:30.
That's nice, but I wish "lit pink" was in quotes like "lit pink" because then I would imagine it was an innuendo for getting crazy sexy drunk. What are you doing tonight, Barack? I'm just having some people over and Michelle and I are planning on getting "lit pink" all night. I think Reggie Love is going to be on the 1′s and 2′s spinning it west coast gangsta' from 11-4 in the morning.
1. David Arquette
I like Cougartown.
Boom! What's up now? What the fuck is up now? Like is a strong word, but it definitely isn't "I don't like Cougartown" and it definitely isn't "I never want to see another episode of Cougartown again in my life". It is more so, "I love Modern Family and I never feel like I need to switch the channel after Modern Family is over because Cougartown ain't a bad like Outsourced is." Her ex-husband is funny and Busy Philipps could show up on my doorstep and say, "We're married forever" and I wouldn't question it ever. She was cool enough for Daniel Desario on Freaks and Geeks than she is cool enough for me. Plus boobs and all.
Anyway, I know David Arquette and Courteney Cox broke up. Supposedly, he is with some new young hot chick. Fair enough. I know two things immediately about Courteney Cox – 1. her name is Courteney and not Courtney. 2. We share the same birthday except she is 19 years older than me. She is a great looking lady and I want her and Jennifer Aniston to become a lesbian couple who occasionally have boy toys and then they film that for Showtime.
Kristen Stewart wouldn't have to do too much. His only tie to the people's attention in this world was his wife and now that is over. Next week, will begin the slow fade into obscurity… until Scream 4 comes out and then a month after that he'll really fade into obscurity and as with all celebrities who lose the spotlight and the affection of the public, his cells will break down and his body will eventually turn to dust and be taken out with the wind. For Kristen, this is a passive waiting game. No sweat.
2. Storm Chasers
Is Twister playing on TNT or something? I think there is a TV show called Storm Chasers, so it could be about them… which ultimately was inspired by Bill Paxton, Helen Hunt, their misfit crew featuring Phillip Seymour Hoffman, as well as evil tornado enthusiast Cary Elwes from the glorious movie Twister.
Not to sound too cynical, but I believe Kristen can wait this one out as well. There is probably a decent mortality rate in "storm chasing" if they are driving around in minivans trying to throw ping pong balls into a T-5 tornado like in the movies. I mean Cary Elwes died.
Kristen can probably wait until a towering cylinder of win that appear and disappear at undetermined time and have the power to tear buildings in half just unpredictably cuts right through this reality TV camera crew.
3. Deadliest Catch
Uhhhhh… so… Kristen… could… wait… this… one… out… too…
Isn't this whole show about being the most dangerous job in the world outside of "bomb maker with tourettes" or "Naomi Campbell's assistant"? I don't think Kristen really needs to get involved here. They are running the risk on their own survival at all points in time and every time they do survive we are fed with delicious crab. Kristen can just set-up an egg timer and wait this out. Hit the snooze button until it is all over.
4. McRib
I saw an article on Yahoo entitled "Why can't we find a McRib?" or something similar. That is what we call one of those "good" problems. Why would you want to find a McRib? I never thought people were looking for them. If a McRib is in closer proximity to you then you are slowing dying anyway. It's like second smoke or carbon monoxide poisoning or watching Rachel Zoe Project – it is destroying you from the inside out whether you know it or not and whether you actively participate in it or not.
If Kristen Stewart eats a McRib she dies. Let's just get that straight. Let's get the bad news out of the way and say that if Kristen Stewart is exposed to a McRib for longer than an hour she will die. Have you ever seen Kristen Stewart? She weighs nothing. Her weight is so insignificant that you would have to get multiples of her and weigh them and then divide that by how many multiples you had to get the weight of one Kristen Stewart – you know like how you do with a penny. If I ate a McRib it would render me useless for at least the next 24 – 36 hours. But it probably wouldn't kill me. It would certainly take years off my life, but at the same time my belly fat will absorb the McRib like the "Borg" from Star Trek and assimilate this horribleness with the rest of the horribleness that will eventually kill me later. But I would survive it. Like 85% chance I would survive eating it. Meanwhile, Kristen has none of that, so the McRib would attack her full force rendering her into a coma she would never awake from maybe two bites in.
To defeat the McRib – well, first thing first, it is not a waiting game in this one. A McRib will last forever. It will change shape and color, but the potency of the molecular evil that is in this composite commercially produced sandwich will never dissipate. Kristen will need to obliterate the McRib immediately. She will only have one chance at this. Once the two are put into the same area to begin their battle for supremacy, every second that passes that Kristen doesn't blow up the McRib with a want blast then the McRib's fumes will begin their course of action in toppling the mighty K-Stew. I would suggest a clothespin for her nose and sunglasses for her eyes and wearing a full bomb blast body armor out of The Hurt Locker and ramp up her want to 9000 and blast that fucker into the stratosphere.
5. 50 Cent Rhino
First off, yes.
I read about this before, a rhinoceros was shot 9 times by poachers and survived. Now wildlife people want 50 Cent to adopt it to continue to save its life and because he was shot 9 times and survived. Yes, I want this to happen. I want pictures of 50 Cent and a Rhino 50 Cent.
Kristen ain't killing this. If anything I believe that celebrities like Kristen Stewart should begin adopting wildlife like rhinos because why not and they should peer pressure 50 Cent into buying his own rhino army. Have you seen that man's twitter page? Besides a middle school English teacher, that man needs a rhino army stat.
Stand down, Kristen.
6. Katherine Heigl
Hopefully, this is an announcement by Katherine Heigl to start making what people in business call "good" movies. That would be cool. She has been apart of a few good movies like Knocked Up, 100 Girls, Under Siege 2: Dark Territory, My Father the Hero and all 10,000 of those day dreams of us living happily together after I saw My Father the Hero when I was 11 – just to name a few. There is a chance she could go back to making good movies again.
Do not be mistaken, Katherine Heigl is a formidable opponent. She has all the traits of a well deserving adversary – she looks good in a bikini, she … that's really enough right there. I mean when talking about why Hank Aaron is such a great baseball player, saying he hit 755 homeruns is really all you need to say. He was great outside of that as well, but that is perfectly acceptable. I know I'm not alone on this, but Katherine Heigl is really good looking and she can do comedy, so I'm rooting for her to get back into making movies that I don't feel shameful in seeing.
Preferably, Kristen Stewart would defeat Katherine Heigl via kissing her to death. Or at the very least, kissing her until she submits then Kristen would kiss her some more just for giggles.
7. Leonardo DiCaprio
More like DiCrapio, amirite? I bet all the boys at school called him that while DiCaprio was off finger-blasting their moms. Just a good ole' finger-blasting. I did write "making out" first, but finger-blasting is just funnier. Also, I enjoy the fact I feel like classing up the joint, but adding the hyphen in there like I'm using the Queen's English to type out "finger-blasting".
I honestly was curious as to why Leo is in the news trending. It appears people are now realizing that he is going to be J. Edgar Hoover in a movie called Hoover directed by Clint Eastwood. Sounds very promising. That was announced a while ago, but I don't expect people to stalk the IMDB page of EVERYONE like I do. Anyway, I was curious about Leo being in the news because Christopher Nolan directed Leo in Inception, which Chris Nolan directed, Nolan also directs the Batman movies, Nolan just announced that Tom Hardy who was in Inception will be in the next Batman movie… so… maybe… Leo… would… be… in… the… new… Batman… but… no.
I don't want Kristen Stewart to destroy Leonardo DiCaprio because he is making movies I am enjoying nowadays. Well, if there is a way that if Kristen Stewart us unleashed like a Sentinel from X-Men and hunts down Leonardo DiCaprio and kills him with optic blasts and sheer metallic power and then gives Leo's girl/swimsuit supermodel Bar Refeali an ultimatum that she is to track me down and make me the happiest man on Earth for the rest of our days together (we're both Jewish, it could work) then she should get on killing Leo already! Outside of that, let the man live so he can continue making good movies.
As for Tom Hardy, I'm excited he is in the new Batman movie. I think he could easily be the new villain. I'm not sure who he should be, but I think he gives a full force performance in whatever role he is given. Also, he is known to physically transform himself for a role like he did in Bronson and like what he was preparing to do for Mad Max. A lot of people assume "the Riddler" will be the next villain. I am a fan of the Riddler and Tom Hardy could definitely be the Riddler (why not). There are a few ideas that I wouldn't mind seeing in the new Batman movie (all or some would be great): Batman being chased by the police, Catwoman, Two Face dispensing his own justice.
The end of The Dark Knight has Batman starting to be the focus of the police that they need to catch him as an outlaw. That is a great theme in the comic books. He is not a loved man in Gotham. He is a marked man that is a vigilante who needs to be stopped whether or not what he is doing is right or not. He is terrorist in the purest definition of the word. I like that idea. I like that Batman is an anti-hero. Bad guys are in awe of Superman, but they fear Batman. As for Catwoman, there is no female character going into this 3rd movie. And there really hasn't been any solid female characters in the other 2 (Maggie and Katie were peripheral at best). A strong and sexy opposition for Batman could be great. In these two past movies, Katie/Maggie could have been in love with Bruce, but not Batman. Catwoman wants Batman and not Bruce Wayne. That is interesting and would set this movie a part from the others. Thirdly, I would like to see Two Face back and that funeral at the end of The Dark Knight was a cover-up for Harvey Dent still being alive and being stuffed somewhere in Arkham, but he escapes and is now judging people with the flip of a coin and the trigger of a gun.
I'm so excited for Batman, can you tell?
8. Busch Gardens Coaster
A new roller coaster at Busch Gardens? Get all those people who are eating McRibs to jump on the coaster at once and pretty sure that would kill that thing forever. Easy peasy.
Or Kristen Stewart could get a monkey wrench and take that bitch apart. I heard she used to play with erectorsets when she was a kid, I'm sure that knowledge will transfer. What? You doubt Kristen Stewart's engineering skills? And you call yourself fans. Pffftttt…
9. Alien Prequel
Why the fuck not? Some people may think that an Alien prequel would be bad because it could hurt the franchise's integrity. Those people didn't see Alien 3 or Alien Ressurection. Those movies were not good. Good directors and good actors and still bad movies. Crazy, right? It is a lot harder to make a good movie than people think I suppose. Plus those Alien vs. Predator movies didn't help anything or anybody. But they should try again with a good director and good actors. The alien from Alien is one of the more memorable creations in cinematic history, so why not go for it.
Supposedly, Natalie Portman is in talks for the movie. I guess to play a younger Sigourney Weaver/Ripley. Makes sense. Natalie is gorgeous, great actress, and she looks good bald. Like really good bald. Like so really good, I should be saying great. Anyway, I'm a fan of Natalie as mentioned yesterday, so I'm all for it. The more movies with Natalie Portman the better. I have rarely heard a rumor of her being in a movie where I wasn't completely for it. Pride and Prejudice and Zombies – fucking for it! Supposedly, that movie might not happen anymore, but that movie would have been good with Natalie Portman in it.
As for Kristen and Portman doing battle, see item #6 with Katherine Heigl. Kissing contest to the death. I don't think either would lose. It would just go on forever warming the spirit of humanity and serving as an endless light we should all strive for when creating policy in this great democracy of ours ala John F. Kennedy's "eternal flame".
Seriously, how many other blogs have the courage out there to compare two girls kissing to the presidential memorial gravesite in Washington D.C. of our 35th President?
Answer: not enough
Also, Natalie and I would work. I'm Jewish, funny, kind-hearted, and she has terrible taste in men.
10. Matt Damon
Matt Damon needs to be stopped!
Not really. He's ok in my books. He makes good movies and bad movies and doesn't seem to be a prick about it. I think he would honestly like that assessment of him. Also, I'm glad he is giving up on the Bourne franchise. The Bourne Ultimatum is the best that movie is going to get. There is no need to keep going with it just because. Let someone else take the it and run it into the ground. Identity was good, Supremacy was a let down and Ultimatum rocked. That is good enough. You can make other movies.
I would like to see him make a comedy that does not have Steven Soderbergh as the director or some Soderbergh disciple. There are a few directors that I think could really use Damon well in a comedy – namely Judd Apatow or Adam McKay. I also wouldn't mind seeing Ben Affleck and him reteaming for a comedy that maybe they write. It could be semi-autobiographical – it could be about two famous actors who are adversaries or become adversaries.
As for Kristen Stewart defeating Matt Damon? Well, he has had a lot of training for all these action movies, but really *hand job motion* come on – they're actors, how tough could they be? If she could lure Matt Damon with her lip biting and sexy stare to a room that locks from the outside and once she locks him inside that room she starts a screening for Matt of his movie The Informant! and let's the movie play on repeat – I'm sure he'll have killed himself by the opening credits of the third time.
And that's how we play the Kristen Stewart kills the Top 10 List GAME!!!!!
Questions for Friday!?!
Another fucking week. It is Monday and it is shitty outside. Or it was shitty outside when I woke up. It has been shitty weather-wise for the past 3 days. Saturday was all day and all night intense rain. There was flooding all over New Jersey. And who really cares? I doubt any of you care about my trials and tribulations with flooding. I mean I made it through it. I'm still here typing, which is all that matters, right?
It doesn't matter to you all if I'm typing with one arm because I lost the other in the rain on Saturday. That's right. I could have lost my arm in the rain. The rain could've been so powerful it just tore my arm clean off. Or maybe I was caught in the flooding and somehow one of my arms got caught. I needed to free myself so I had to sever it with a pocket knife and say goodbye. But here I am typing away with my one good hand, because it is my only hand, to give you all a couple of jokes. You insensitive bitches, forcing a man with one arm to entertain you like some disfigured monkey!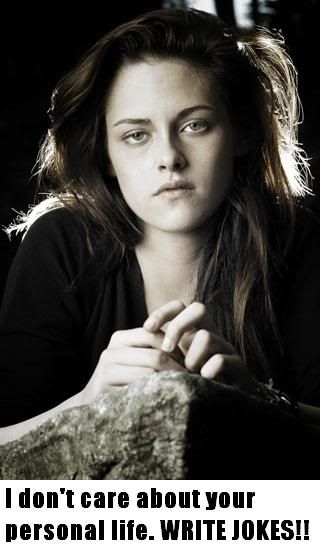 What if I lost both arms in the rain? I don't know how, but I could have. Here I am. I still show up for work. No idea how I got dressed or drove here, but I did. Am I typing out these jokes to serve your selfish desires with my nose right now? Who knows? Maybe I dialed the computer tech guys with my nose and they showed up. I explained to them my predicament. I have a host of incredibly sick unforgiving women who chide me, tease me, scorn me and for whatever reason I feel obligated to try and make them laugh to only help others who have to deal with them in real life. I need a way to provide some humor to them because any day that I don't there is a chance for a PMS related homicide where ever they work and live. Even though they are completely disgusted, they understand.
Now, I sit here with one of those plastic helmets on connected with electrodes and touch sensors. I'm tapping the sensors with my head which moves a cursor on the computer screen to move one by one to each letter. Once at the correct letter, I bite down on the enter/confirm key. Do you see what lengths your depravity has driven me to!?! I have no arms, or one arm, or maybe I'm perfectly fine with two arms and just furious I am at work! But do you see what you are doing! I hope you all feel ashamed.
I could be typing with my feet. I could be typing with my feet because I have no arms or because I'm feeling adventurous. Either way, it is Monday and my sternal head is showing.
Quizzes! I thought I would take a quiz this morning. I thought maybe a personality quiz with funny results. If you remember, last time I took a personality quiz from Cosmopolitan magazine I was near suicidal afterwards. I was going to steer clear of the Cosmo and try something different. I found a website – www.gagirl.com – at first I read it as "Gaga Girl" thinking I found a kindred Lady Gaga inspired spirit. Alas, "Ga" is "GA" is "Georgia". It is "Georgia Girl"!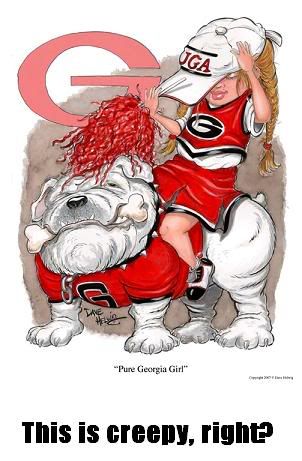 Georgia Girl likes to remain anonymous. There is no "about" or "who the fuck are you?" section I can find on this site. I will guess that this site is the maddening drivel of a very bored and lonely woman. The website says it started in 1997. OH MY GOD! That's crazy! Nothing still exists from 1997! Half of my readers weren't even old enough for cognizant thoughts in 1997 and the other half were probably just starting their second midlife crisis. The website looks exactly like it would have in 1997, which only adds to its genius.
The majority of the site is dedicated to the sappiest poetry about the sappiest subjects. Would you like twenty G-Rated/cry-yourself-to-sleep-after-inhaling-a-box-of-Russell-Stover-chocolates poems about hugs? Then today is your birthday because GA Girl's got'em. Outside of the poems, I did find an entire section of quizzes. Predictably most were unnervingly stupid.
A couple "quizzes" caught my eye. They asked one question, gave you a set of choices, and depending on which choice you made it gave you a mock psych profile on your decision. This is all phenomenally scientific. What candy bar would you choose? You chose a "Butterfinger", well then you are a kid toucher who wets his bed, but you have great conversational techniques, you drive a Ford and DVR every episode of The Soup. Nothing as specific as that, but that is the gist. The one quiz that I found the most "interesting" was:
What part of your body do you wash first in the shower?
Find out what it reveals about your personality by clicking on the name of the body part you wash first.
http://www.gagirl.com/quiz/shower.html
Fair enough. I have heard of them before. I have taken a few showers in my day. I think I could participate in this. The washing your body quiz has six archetypes: hair, chest, armpits, face, shoulders and other.  
Georgia Girl does not reveal her scientific resources, so we are supposed to trust her integrity and believe that all of this is 100% factually accurate. Whatever body part you wash first when in the shower speaks about your inner psyche and all of your darkest secrets and ambitions will be revealed. It's time for Sigmund Freud and Carl Jung to take a beat seat to the utter psychological brilliance of Georgia Girl's findings. Carl and Sigmund are probably making out in the back seat anyway, am I right? So let's not disturb them shall we.
Hair
Those who wash their hair first are the artistic type. Daydreaming is your hobby but you can achieve what most other people cannot. Dedication is lacking but you will work tirelessly towards goals which are to your liking. Money is not important to you. Friends are but only intellectuals and fellow artistic types. You make the best lover as you are most willing to explore and please your partner. Talent is your main strength. Your best partner in life will be those who chose chest.
See? This is going to be some good shit right here. Oh if you wash your hair you like to smile. None that bullshit is going on with Georgia Girl! She is cutting to the bone. My analysis of this analysis is that a "haircentric washer" is creative, but impractical, selfish with your projects, but give good head, you're an elitist, but isn't an asshole elitist like you only consort with rich people. If I had to take a guess, I think Leonardo DiCaprio washes his hair first.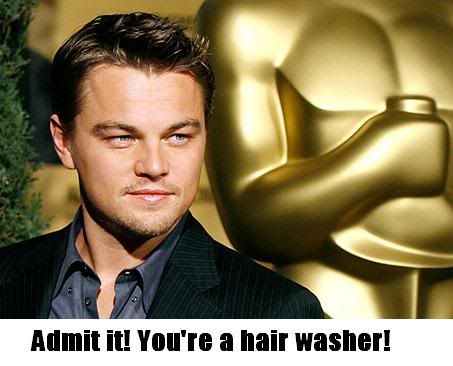 Chest
Those who wash their chest first are the practical type. You are straightforward and do not beat around the bush. To you, convenience is of paramount importance. You hate to be distracted when concentrating and are impatient with people who do not see things your way. You're a good lover and willing to try new things. Your best partner in life will be those who chose hair.
A chest washer is a pragmatist. I buy this hook, line and sinker. If the first thing you do when you get into the shower is to reach for the soap and not the shampoo or a specific face wash then I think generally speaking the chest would be where you start. Grabbing the soap first is all a pragmatist move. Even with all the special shampoos and face washes, the regular bar of soap or gel or whatever can be used to wash your whole body including face and hair if wanted. The chest is a likely place to start for the practical because it is the center, big surface area, it's the hub of your body.
None of these archetypes signify whether there is a difference for a man or a woman. I would tend to think that women with, how should I say, "grander" bosoms would start at the chest. Let's imagine, hmmm I don't kn- EVA AMURRI, let's imagine Eva Amurri (Susan Sarandon's daughter and the naked girl on Californication) is taking a shower….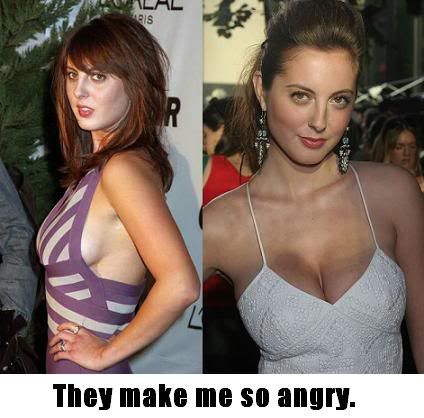 I blanked out for a few minutes. But I would imagine or I did imagine she starts by soaping up her chest. She gets "them" good and lathered. She'll spend upwards of 20 minutes or so getting a really thick soapy cleansing coat on "them". Then she'll rinse them off for another good 20 minutes or so. And then repeat with the soap and more rinsing until I CAN'T TAKE IT ANYMORE! AHHHH!!!!
Armpits
Those who wash their armpits first are dependable and hard working. Generally a very popular person as you are very down to earth and willing to help others. You tend to get yourself into trouble as you cannot tell whether people are genuine towards you. You are the working type with average talent. Your best partner in life will be those who chose shoulders.
Are they washing their armpits first because they stink from all the hard work they are doing? Meeting people is easy, but being "very popular" can be difficult and get quite a funk stewing in your pits. This is also a bit of quandary – they're dependable and hard working. So can I spot a dependable and hard working person if they have very clean armpits or is it the opposite – do they have really dirty armpits that they attend to first in the shower because of all the stinkiness they get into outside of the shower? It's a rough life for the armpit washers because of this never ending paranoia they are involved in worrying if a person is using them or not. Who knew?
I think Brad Pitt is an armpit washer first. Not just because of the "Pitt" and arm"pit". Brad is obviously very popular and he appears to be very down to Earth. He is a hard worker and he is willing to help others. Haven't you seen all the work he has done in New Orleans? That is typical armpit washer stuff right there. I don't know about this "average talent" garbage though. That's the only thing that doesn't make sense to me. He is a great talent. Brad has at least a dozen at least good-great movies. So my question is, what the fuck Georgia Girl!?! Obviously, Brad Pitt washes his armpits first when he gets into the motherfucking shower! But you're calling him of "average" talent! FUCKING RIDICULOUS! I'm FUCKING FURIOUS! "AVERAGE"!?! Fight Club, 12 Monkeys, Legends of the Fall, Snatch, The Assassination of Jesse James by the Cowardly Robert Ford, Babel et cetera! ET CETERA! Pfffft… Georgia Girl, I'll let this one slide, but don't you EVER say that Brad Pitt is "average" AGAIN.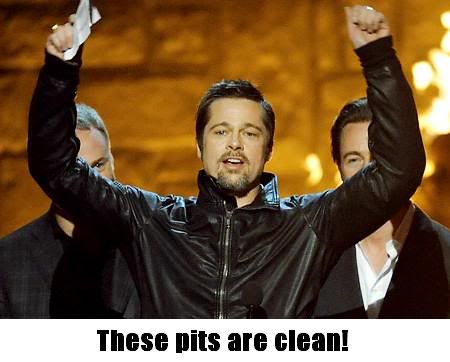 Face
To those who wash their face first money is important and you will do anything to get it. Integrity and dignity is not important. You feel that friends are there to be used and life is one big hassle. Other people find it hard to understand you but you are not concerned as to what they think. You are a very self-centered person. You're an average lover as you tend to be absorbed in self pleasure at the expense of your partner. Your best partner in life will be those who chose other.
Your best partner would be anyone fucking deranged enough to hook up with a face washing loser like you, you MOTHERFUCKER! Seriously, there is not one good trait offered if you wash your face first. If you wash your face first then you are the worst of the fucking worst apparently. Adolf Hitler washed his face first. Saddam Hussein washed his face first. It sounds like Jennifer Aniston washes her face first, which is why Brad and her and every other man cannot stay with her.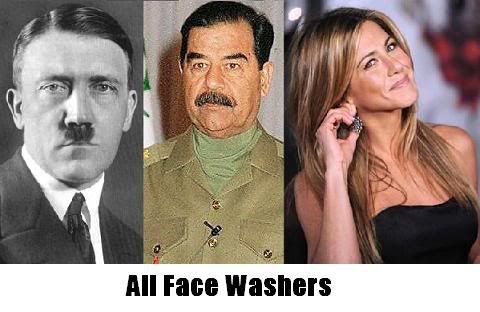 Is it just me or do you feel like Georgia Girl got wronged by a face washer? Like really wronged. Everything was all "good lover", "great lover", "dependable" and then face washing was brought up and it became "I HATE YOU, YOU WHORE! GO WASH YOUR FACE YOU SELFISH PRICK!" It got really real when face washing was brought up. I think Georgia Girl may need a few hug poems to get over this face washing first business. And if any of you are face washers first, I hope you are proud of yourselves because you are terrible fucking people. I'm sure you are proud because you are self centered and I would like to make it perfectly clear that everyone hates you. Hugs.
Shoulders
Those who wash their shoulders first are very responsible. You work hard at everything you attempt. People often think you're stuck up as you tend to spend your time alone. You are very dedicated and make friends for life once others get to know you. Money and power are fairly important to you. You make a faithful lover and tend to be faithful for life. Your best partner in life will be those who chose armpits.
This does not sound like Angelina Jolie, now we all know for certain that Brangelina shit won't last. Responsible, hard worker, stuck-up, loner, money and power are pretty cool, and faithful lover? Kevin Spacey? Kind of sounds like Kevin Spacey to me. Maybe Tom Hanks. Yeah, Tom Hanks works as well. I think Brad Pitt and Tom Hanks would be perfect for each other. Brad Pitt and Kevin did work on Se7en together. Maybe on set they realized they were perfect shower buddies/soulmates and they made out and stuff. Oh? Yeah, I'm supposed to pick a female for Brad, right? Sure….
Hmmmm… Hillary Rodham Clinton. If you change the "money and power are fairly important to you" to "money and power are VERY important to you" then I think Brad Pitt and H-Rod would be a great match. First, Brad – you're welcome. Second, could you send Angelina Jolie dressed in her Lara Croft Tomb Raider gear and minus her crazy amount of kids to Jersey City, NJ. Just have her go to the Newport/Pavonia PATH station. I can meet her there. I'll bring soap or flowers or something.
Other
Those who wash "other parts" first are very average. Undoubtedly, you have your inner strengths but people find it hard to see. You must learn to be a little bit more adventurous and sell your potential. Deep down, you are a very likeable person with very few faults. However, the key will be to make your strengths stand out and not just hide your weaknesses. You are an average lover. You have great fantasies about different techniques but unfortunately are not brave enough to try them out. Your best partner in life will be those who chose face.
HAHAHAHAHAH… "very average"? Brilliant! I love the idea of being "very" "average". Tremendous. You slay me Georgia Girl. Sure you may have some talent, I mean sincerely who the fuck knows what it is, but even if we did know you hide it anyway because you're a little scawdy cat. I think the "average lover" goes without saying if your first description is that they are "very average" entirely. A "very average" human being is hysterical! Even though there is no hate in this paragraph like the face washing one, there is definitely a disdain and clear bitchiness in this that makes it sound like Georgia Girl has no respect for "other" washers. I suspect Georgia Girl's most loyal friend is an even lonelier woman than Georgia Girl who takes a lot of emotional and verbal abuse from Georgia Girl. She probably spends more time with Georgia Girl than anyone else, but there isn't a single sober second where Georgia Girl would admit they are "best" friends.
Also, I sincerely love the idea that "other" is a category. What is "other"? First, I thought "balls"? Are we talking about people who wash their junk first? Their private parts? Their wackadoos and whootiewhowhoos? That could be. It could also mean "legs". Or feet or hands or elbows or stomach or butts. And all those people are "very average" and they have longing fantasies about using vibrating cockrings or 69-ing, but they are just gutless sheep who will bang away in a mediocre missionary position their whole life. Poor bastards.
So what am I?
Chest washer. I am the pragmatist. I get into the shower and grab the soap. I start up a good lather and slap it on my chest. I need to keep this sternal head clean and sparkly for dreary days like today.
Any hair washers available?