Today is Monday, but I'm answering Friday questions. Crazy! I hope you can handle all the insanity. To help you through this transition, I thought a pretty face would lend to a calming presence. I have picked Jessica Pare who plays the gorgeous secretary Megan on Mad Men who will also be Don Draper's new wife in the next season seemingly, as the two of them got engaged in last night's season finale. Jessica is very pretty and looks like the sexy and impossible love child of Liv Tyler and Anne Hathaway.
I'm not a licensed doctor/scientist, so I'm not sure if Anne Hathaway and Liv Tyler can produce a love child. But I am pretty much an "honorary" doctor/scientist/street car race champion, so I think we should have Anne Hathaway and Liv Tyler try and try and try to produce a love child. We should video tape all these attempts and I will keep those tapes and review them constantly and make suggestions for each next attempt.
Also, if you would like to see Jessica topless (which is rhetorical statement I know) just google pictures/video of Jessica specifically from Hot Tub Time Machine. And she was also naked in another movie called Stardom. Also, also, she is naked in another movie and she might be naked in another movie and she makes out with Piper Perabo in another movie and she might be naked in that as well. Seriously, when is this girl receiving her gold medal for humanity?
I really loved Mad Men this season. They added a lot of more comedy to the show as well as showing a more human/sensitive side to most of the characters. I think one can safely say that one learned a lot about each of the characters this season – especially about their personal life. Hopefully, this new zombie show will be good because I have given up Boardwalk Empire. If anyone is still watching that show and something interesting actually happens on it (like if Nucky Thompson gets super powers) then tell me, but if not then I am glad to not be watching the show anymore.
Bored to Death and Eastbound & Down are still excellent… as well as FOOTBALL!
OH! Friday questions. hmmm let me think…
Do you think the Verizon iPhone is every gonna happen? And if it's not out by January when my contract is up what smart phone from Verizon should I get?
Yes, I think that the Verizon iPhone is going to happen. I'm viewing this whole "smart phone"/"phone provider" problem much like the video game dilemma of a video game/video game system. There was a period of time when games stayed exclusive for one system like Halo and Xbox. For a long time, the video game companies sided between one system over the others and would keep their games exclusive for that system and stay loyal to that system. But at some point, someone realized that a game can get more exposure and make more money if it was released for both systems. For instance, BioShock was originally just an Xbox game, but if you waited a year then it came out on PS3 as well. I think that's what will eventually happen with the iPhone. Right now, I think they are just churning up people's intense interest for the iPhone who are on different service providers than AT&T and when iPhone's are made available finally for the others, there will be a calculated mass attack on all stores offering cellphones as if Verizon and Sprint customers were the rage zombies in 28 Days Later.
Hmmm… well, I have an iPhone, so I really don't know about these other "smart phones". I will say this that I'm sick of calling my phone "smart". It really seems that we're throwing that word around pretty loosely these days. I know people with Blackberrys and Droids. I have heard good things and bad things about all of them. If I couldn't have an iPhone, I would probably get a droid because it does seem very similar. It also seems the cool kids have Droids.
And with that, deciding which kid is cool because of their cellphone means this generations has NO COOL KIDS. Class of '83 still rules, motherfuckers!
Does that fact that my bffs and I had a totally serious discussion about buying cars, car loans, interest rates, and taxes mean we are finally grown ups?
Does it mean you are finally grown ups? No, not necessarily. It does mean you and your bffs are boring. Hahahahahahah… Like all things in life – the end justifies the means – so if you learned something from the conversation or helped someone else with that conversation than all is good. Also, if the conversation ended and you all agreed to get Four Loko drunk and make bad decisions that would be great stories to laugh about once the police trial was over instead of talking about boring stuff like car insurance than sure that's ok.
What is you favorite Sesame Street skit of all time?
No idea. Feel free to tell me yours with a youtube clip of it attached. Did you know that muppets were originally a serious of pipes that were painted on in the NBC basement done by Jim Henson and some other illustrators? They had to be the highest on acid. There is no way that a sober employee would venture to the basement, find some exposed pipes, think to themselves "we should paint these as crazy cartoon characters, and then proceed to talk other sober people into doing it, then doing it, then making those creations into workable puppets. That is what druggies do. Again, the end justifies the means.
So the next time you are subject to a drug test at work, turn to your boss and say "Well, you just sealed it now. I'll never make the next generation of muppets." And you explain to them you were going to find some old pipes in the basement and paint on them to then create lovable children's characters that will have an international multi decade following and will teach these kids to read. Then they'll fire you because even if your piss turns up clean they'll think you paid someone because you are clearly crazy.
What animal would you most like to receive unexpectedly as a gift, and what animal would you least like to receive?
Same animal: polar bear.
I would love the polar bear like it was a big dog. The polar bear would most likely cover my apartment in its piss, feces, and destructive power. The polar bear may kill me. High probability it would kill someone else. But it would be a fun ride. Literally, a fun ride because I would put a saddle on it and ride it like a slow horse or I would attach a harness to it and it could pull me in a wheeled cart like I was the White Witch in Chronicles of Narnia.
What do you, Jordan, think would be a good food to offer a woman (or man) after a mammogram?
Cupcakes.
I could see a tray offering chocolate cake with vanilla icing and yellow cake with chocolate icing. This not to say "funfetti" could not be offered as well, but that will be up to the particular doctor and their office to make that decision. Just so this conversation could happen…
"I'm getting my mammogram done at Dr. Sanders' office."
"Really? I've heard only bad things about Dr. Sanders."
"They have funfetti over there."
"Well, then. I guess I'm going to have to schedule a mammogram from Dr. Sanders."
Dr. Sanders – cold to the touch, the equipment might be out of date, but there is FUNFETTI!
It is impossible to be sad while eating cupcakes.
I hope everyone had a great weekend.
What's up, motherfuckers? Get excited!
Back to the grind. The grind. The daily grind. The weekday grrrriiinnnddd. When I had a job, I never felt like I was really "grinding". Not only did I not feel like I was grinding, but I couldn't imagine what grinding would have been even if I tried to at that job. I guess that was really what that job was. Unless "grinding" was actually filing away any and all paper work that I never filed away or being led into some executive's office and giving them an impromptu lap dance. I'm sure I would not have been good at doing either.
I don't know if I ever mentioned this when I was on the outs of my job, but we were closing up the place because the office was moving and I wasn't quitting because I wasn't going to make the move. After two plus years of working there there was a ton of paper work that needed to be filed. So much paper work. Walls of filing cabinets full of files. Everywhere! Trees, forests, jungles, countries of paper! And I did my job, but I usually did not file any of it away. I'm a modern ager! I did what was needed, I registered it in the computer, in the company's network, and I made sure whatever transaction it was did go through. But the paper copy!?! That usually sat in stacks or ended their lives in the garbage can.
Nevertheless, after all that time at the job all that paper work had to be destroyed. They were not taking all the paper with them. Instead we had to get rid of all of it. Not only was I throwing out all the paper at my desk. I was throwing away every piece of paper that I had at my desk that I was supposedly supposed to file away somewhere. I throw that paper away and then I follow it up by throwing away the file folder that that file went into. After that with the strength left in my glistening biceps, I throw away the entire shelf of file folders from that cabinet. Why are biceps glistening? From the GRIND! And after the shelf is through, I throw away all the shelves in the whole cabinet. Every piece of paper and folder, every piece of information in an entire cabinet thrown away. And then when that task was completed burning the past, I then started with disemboweling its brethren.
I felt like I did more work erasing the history of the company I was employed by than I ever did on a daily basis trying to help them continue as a company.
This weekend was unremarkable. Although, this is a website that is filled with my remarks, so I'll think of something. Friday night was spent at a bar and Saturday night was spent at home and Sunday was spent in the loving scotch stenched embrace of Mad Men.
FRIDAY
Don't tell Dawgz that Philly sucks. The phrase was not uttered by me nor the sentiment. I love Philly. Illy. Phila. Philadelphia. Illadelphia. At the local bar, the place was packed. More front loaded. The entrance was a buzz with grinders drinking away their week all staring wide-eyed at another boring Mets game. It wasn't inparticularly boring because it was the Mets, but it was boring because it was BASEBALL. Moving on, we three grabbed drinks and walked to the other end of the bar back to where the pool table was and where more space was to stand without someone's stomach against your back.
Once there, we were greeted by the worst game of "video shuffle board" being played by sisters. They did not look like sisters, but they swore they were. It was shuffle board with a TV screen. Lord only knows how long these two were at it before we arrived, but the game of shuffle board was uniquely foreign to these two and even more so the incorporation of the television screen element. We explained and explained and explained and explained and re-explained how or what they should be doing to win the game or at least score points. Finally, one of them got the hand of it and the other quit. My friend took over for her and now it was a battle of friend versus random sister.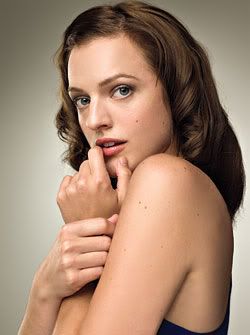 This is interacting with strangers. That's what we are out to do… that and drink. So we continued. Anyway, that is how we met the eventual Philly Sucks girl. She was a friend of the sisters who I and another friend were playing TV shuffle board with. The friend shows up and Dawgz is bored, so he engages. On second chance, he would have stayed bored. She asked Dawgz where he was from, he said BLAH BLAH and she responded BLAH BLAH? That place sucks. Hmmmm… interesting way to start, right? This was then followed by her asking what college he went to, he responded Saint Joe's in Philly and this brought about the Philly Sucks. This enraged Dawgz! You may besmirch my town, but not Philadelphia!
Next thing I know, the girls were leaving, which was ok by me. And while they were leaving Dawgz was still shouting great landmarks and traditions of Philadelphia as if he was apart of their tourism department or dressed as Benjamin Franklin.
Then I beat Dawgz in video shuffle board.
If anyone follows my Twitter, I was keeping up a pretty good record of what we were experiencing as far as our drunk troubadour. The bar we were at had a jukebox. There was also a man in the bar who was double downing on Coors Light and tequila shots. He also sauntered his way over to the jukebox and must've invested a hundred dollars in the machine because for the rest of the night he had credits in the damn thing choosing pretty much all the music we heard.
The first hour of music would easily be categorized as late 70′s and 80′s rock. But it was also the same rock over and over again. The guy was either so drunk he couldn't remember that he was playing the same songs over and over again or that he was so drunk he wanted to hear the same songs over and over again and didn't care that he was spending money on them and that an entire bar hated him for doing it. In that first hour we heard – three Blondie songs, "Boys Don't Cry" twice and "Changes" three times. He continued to repeat himself later as we heard "Changes" a couple more times. The bartender eventually cut the guy off and would pipe in music of his own choosing. What I learned from this was that a bald man, tequila drunk, abrasive as anything and wearing a gaudy Affliction t-shirt still has a soft side. Blondie, The Smiths and Bowie? Was this a cry for help? Did I not hear him weeping on the inside, on the inside of his skull and crosses Affliction t-shirt.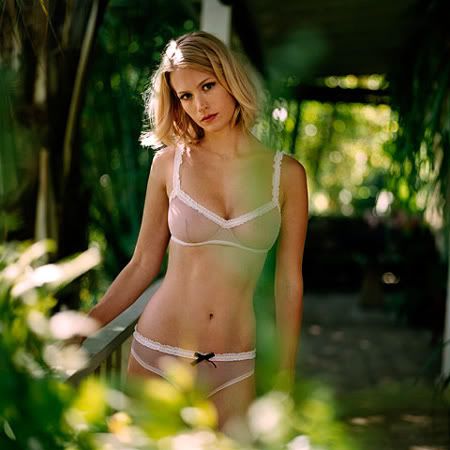 SATURDAY
I watched:
Surrogates – with Bruce Willis. We didn't watch it together. I mean Surrogates has Bruce Willis in it. It was a bad movie. I doubt anyone is worried about me spoiling the movie for them, but James Cromwell is everyone. EVERYONE. The movie wasn't good, but it could have been. There are decent scenes are moments in the movie or some interesting ideas, but all in all it is bad. It also ends terribly. As spoiled, James Cromwell is EVERYONE in the movie who is not Bruce Willis. He is both the good guy, the bad guy, the assassin, the victim and everything. It didn't make any sense.
Boondock Saints II: All Saints Day – Fucking awful. Horrendous. Terrible. But oddly enough I think that was the point of the movie. I think Troy Duffy didn't want to make this movie especially after all this time and especially with the input of the studio and more money and all that. I think Duffy went out there to make the worst most cliche piece of garbage film he could make as a nice "fuck you" to the studio. As funny as I found that or as bad funny the scenes/acting were, it still was just garbage and I couldn't sit through it all.
Salt – I didn't see it. I thought about seeing it a lot. A real lot. But I never got out of my apartment in a determined fashion to see the flick. It is PG-13. Ugh. I don't want to see a movie I'm expecting to be bad or meh at best and on top of it is a PG-13. At the very least, I need to see the blood and guts and nudity and cursing for a movie like this. I'm a simple man. If I'm paying to see a cookie cutter movie then I'm going to need an R rating.
Lastly,
MAD MEN WAS AMAZING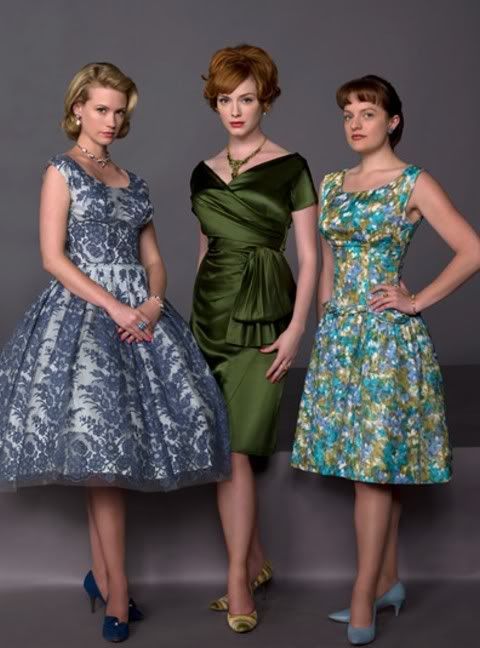 I don't want to ruin anything for anyone who didn't watch it yet, but it was great as always. Roger Sterling has the best dialogue over any character on television. You can hear the joy of the writers of that show coming from his mouth. They write him beautifully with a million one-liners and then John Slattery delivers them better than any other actor could.
How was your weekend?
The best way to start off a conversation is with the following words "I don't want to sound racist, but…" It is a sure fire attention grabber trust me. Even though the person is saying they don't want to sound racist they inevitably sound racist with the very next words. It is great. They might as well say "I'm about to say something racist so listen up."
With that being said… I don't want to sound racist, but if you watch Mad Men then you're probably white. I love the show, but there are no black people on it. I know it is the 60′s and people were racist (thank God we solved that problem), but black people were around. I don't think they've ever had a Hispanic person on the show either. Nevertheless, it is a great show because all the guys wear suits, the women are all in high heels and tight dresses, they get to drink at work, and no one had ever heard of sexual harrassment.
The protagonist, Don Draper, is a prime example of someone who wants it. Don Draper wants it so much almost all the time. If he doesn't want it he usually is thinking about how many women he recently has had sex with which is understandable. But Don Draper is a fictional character. Even in this fictional world where Don Draper could potentially want it in every scene because there are endless takes and no reprecussions for him wanting it – he still doesn't want it as much as Kristen Stewart.
He is played by Jon Hamm who wasn't in anything notable up until Mad Men. In real life, Jon Hamm never seems to want it. He uses all of his want when playing Don Draper. It is almost like a split personality where he has compartmentalized all of his want into his alter-ego Don Draper. Jon Hamm in real life is goofy and relaxed all the time because he is so drained from wanting it so much as Don Draper.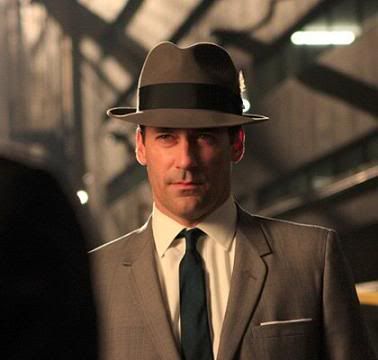 Bam! Look at that. Don Draper wants it. It looks like he is coming off a train and then BAM he wants it. Imagine you're just living your boring ordinary life and you were on that same train. You feel tired and empty from another day of work. Just completely and utterly soulless from shilling out your life at some meaningless job. Just another day closer to dying. And then you make your obligatory turn to look to see if the train left to see if it is too late to throw yourself in front of it to end this charade once and for all and…. then BAM!!!! Don Draper is wanting a hole right through you! Exhilirating.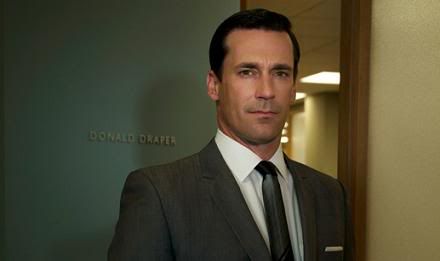 KA-BLAM! He nearly broke that door down with his want. I bet Draper didn't even have to touch the door. He walked towards it and wanted it open like he was Professor X. Don Draper wants it. Don Draper wants it like a shotgun blast in your face. That door opens up and KA-BLAM(!) you're hit with two barrels of want buckshot.
RAT-A-TAT-TAT! RAT-A-TAT-TAT! RAT-A-TAT-TAT! The "Double D" Don Draper machine gun of want is tearing January Jones to shreds. He is lighting her up with all this want. He is spraying her with want bullets. Emptying clip after clip of want into January Jones. It's like Sonny getting killed in The Godfather. His eyes are everywhere just shooting want at all of January Jones. It is a static picture so I'm assuming the last part of his eyes moving everywhere. January Jones is gorgeous so my eyes are going everywhere and Don Draper is not catatonic so his eyes can move, so… Draper is like the Terminator in Terminator 2: Judgement Day and his eyes……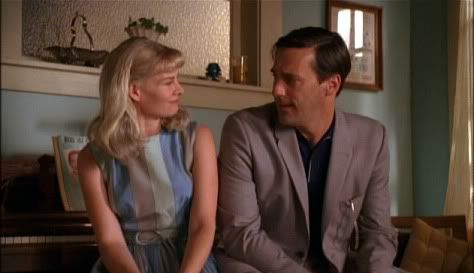 Want grenade! Draper pulls the pin and then throws it and it's just like…. actually Don Draper doesn't want it in this picture at all. Not even in the least bit. This is what I'm talking about how other people take a break with their "wanting it" meanwhile Kristen Stewart doesn't. I remember that this woman had messed up legs in the show, but that wouldn't stop Kristen Stewart. She would sit there and still shine a beacon of want onto that woman with the crazy legs that would profoundly change that woman's life. Kristen Stewart's want may correct that woman's legs. It is so powerful it could fix what God made broken.
It might not, but it "could". Either way, Don Draper doesn't want it here which shows his want is great, but fallable.
Again, here is Don Draper completely not wanting it. He is confused, thinking, trying to figure out the tangled mess his life is in. Don Draper is deciding what should he do. Should he leave his beautiful wife January Jones and their two kids? Should he run away with the Jewish department store owner? Should he just start over with a new girl in a new city with a new name like he has done before? What about his job? Should he quit his job because he is still under the thumb of numbers men who only care about money and don't care about what creative brilliance Draper does each and every day at work? There is so much racing through his mind.
Or he could be shit faced drunk and can't remember how to light a cigarette. He drinks a lot on that show. Like way too much. So much it is crazy to think that he makes any sense at all when he talks. If I drank that much I would have peed myself in that office, thrown up on everything and would be crying, "JUST GET THIS BOOZE OUT OF ME! I'm tired of being blasted drunk all the time."
Three in a row. He doesn't want it at all right here. Don Draper look surprised in this picture. He also looks like a little old lady in this picture. It looks like he has a wool blanket over his legs. He might be surprised because he didn't think he could ever look like a little old lady, but he does.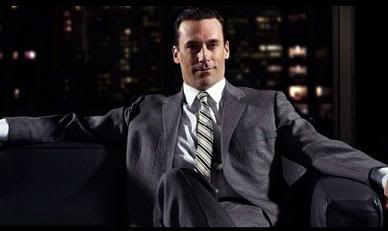 BOOM! Yeah, he wants it. Don Draper is back. Good Christ he wants it. It's almost disgusting how much he wants it in this picture. I feel sick from how much he wants it. But it is a good sick. Like eating too much chocolate type of sick.
Do you remember that small dinosaur in Jurassic Park who eats Newman from Seinfeld? Remember when it was about to attack that neck frill came up and it started screaming? That is what Don Draper is doing, but for humans.
Let's try to understand where all this want is coming from…
The two main areas where want come from are the "eyes" and "mouth". Want can exit the body from any number of places on the human body, but these are two hot zones.
Don Draper's eyes are exhibiting an intense amount of want. You feel as if there is a force about to burst through your computer monitor from all this want. His mouth is also displaying large amounts of want especially the slightly curved left part of his mouth.
These circles can be used for other things…
Don Draper wants it as an astronaut. He has all the things an astronaut needs here: astronaut helmet, the moon, a bottle of XXX and skull & crossbones scotch and a gun. Astronauts have guns, right? They use them to kill aliens because astronauts are basically cops in outterspace.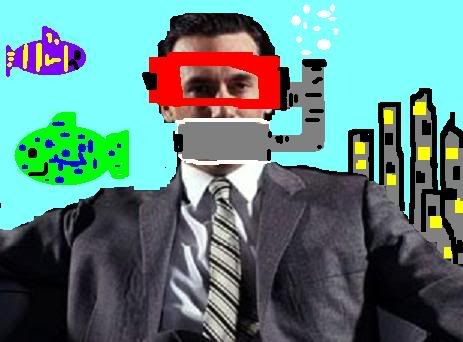 Don Draper wants it while snorkeling. Yes, that is the lost city of Atlantis. Don Draper is good at snorkeling. Not something that is mentioned enough on Mad Men. A couple of cute fish in the picture as well. I like the green one the most. He has a cheery disposition even though he is fat and his blue spots are not at all symmetrical. He is comfortable with his imperfections and shows a lot of confidence.
Don Draper does want it. He wants it a lot. He wants it coming off a train, he wants it walking through doors, he wants it when he is deep sea snorkeling. On the flip side, his want does falter and there are times when he doesn't want it, namely when he is around the handicapped. But what about the guy who plays Don Draper. What about Jon Hamm?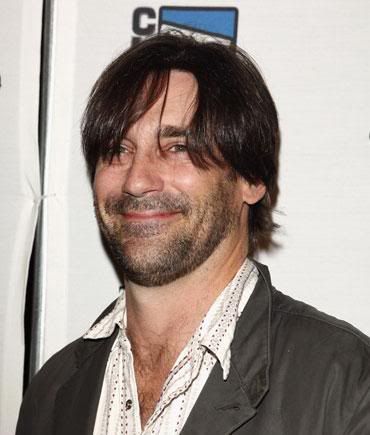 FUCK! Ugh. I threw up. Wow. That is awful. I found this picture on some website and it was actually named "Jon Hamm looks terrible". Yeah, he does not want it here. Nor should he. He should be ashamed of himself. It is particularly bad because he has the ability to look like Don Draper. If I could look like Don Draper and then someone took a picture of me when I was looking like this, I would have chased that person down, destroyed their camera, and killed them so they would never be able to tell anyone about this incident of me looking this bad.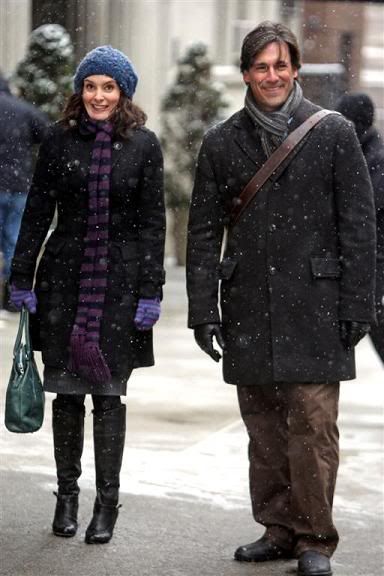 Not wanting it. Jon Hamm is cold here. He is not wanting it. He is with Tina Fey who is also cold, nor does she want it. And by cold I don't mean personality wise, they seem like charming people who if approached on the streets would be affable. I mean literally it looks like they are freezing in the snow and their lack of want is helping progress how cold they are.
Kristen Stewart can walk around the artic in her weed bikini and she wouldn't notice the cold. She wants it too much to notice simple things like weather, appropriate clothes, and hypothermia.
In conclusion, Jon Hamm can want it. He can want it a ton, but only when he is Don Draper.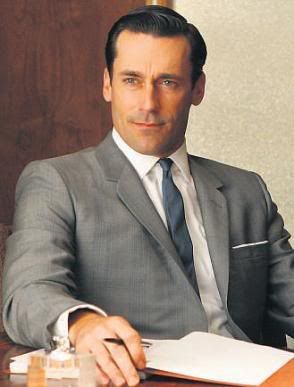 That might as well be the Hiroshima of want. It is an atom bomb of want that destroys an entire city, contaminates the soil and drinking water for generations, and brings a powerful country to its knees.
But…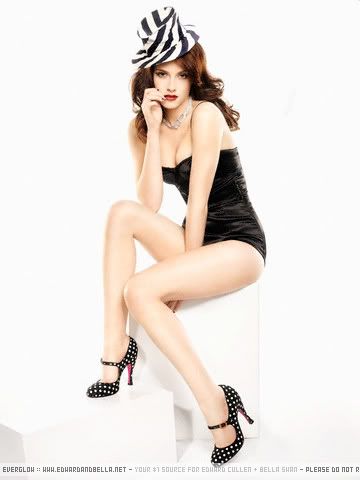 This is Nagasaki.