It is cool finally outside. It has been warm for easily the past week, so warm that I'll decide to go out into the city and psych myself into thinking that at some point arctic temperatures will dive bomb me in the middle of my night out and I'll need to be prepared. Instead, I end up sweating my ass off lugging around my dead weight jacket and maybe even a knit hat. Times they are a changing.
If I had to choose my favorite weather it would be "Kevin Smith"-weather. It is cool enough to wear a sweatshirt, but not frigid enough to wear shorts. Although, no matter what age a man is – wearing shorts and a sweatshirt makes him look pretty juvenile. Sometimes, you have to admit those kids get it – and that "it" is comfort. Shorts and a hooded sweatshirt may be what I consider the most comfortable outfit. But it won't get you a ton of respect wearing it around all the time and at some point you need to grow up and start eating wheat instead of white and Kevin Smith needs to dress like a normal person and not a second semester Freshman in college.
Speaking of movies… were we talking about movies?… I am watching the NFL channel's "Top 100 NFL Players of All Time" from last night… does this have to do with movies?… They have been counting down from 100 to 1 in hourly installments revealing 10 at a time. I am in the middle of the 20-11 bracket right now and next week on Thursday at 9pm on the NFL Network they will reveal 10-1… great… I absolutely love the program. They put together highlight packages for each player as well as a personal account of the player's greatness from either another football player, coach, writer, or celebrity. It is all over the map. Like Billy Dee Williams (Lando from Star Wars aka the black guy who gets to drive the Millennium Falcon) introduces Gale Sayers. Reason being, Billy Dee Williams played Gale Sayers in the classic film Brian's Song that James Caan was also in. That movie will make you cry if you have a soul in your body. If you don't cry then you are already among the damned and are trying to destroy all of humanity from palm of the Dark One's hand.
Movies!?! … RIGHT! So, they just did a profile for #19 – Bronko Nagurski. There are a lot of movies made about former athletes or random events that happen in the world. Most of those stories I don't believe should ever be made into a movie. Meanwhile, somehow Bronko Nagurski's life story doesn't seem to have been told on the big screen and IT SHOULD BE!
- 6'3″ 250+ – he was a beast of a man
- Played for the Chicago Bears as a fullback prior to WWII
- Was one of the best players in the NFL during that period of time
- Because NFL players got paid almost nothing and it was during The Great Depression so he takes on another job – Professional Wrestler
- As a professional wrestler, he becomes the Heavyweight Champion 3 years in a row (I think)
- Ends up in WWII
- The Chicago Bears re-sign Nagurski
- Older, heavier and slower – they put Nagurski in as a Tackle
- In his final game (which was a championship game), with a lack of fullbacks because they were all drafted into WWII – they put Nagurski in as fullback six years removed from his last time playing fullback
- Leads 2 touchdown drives to win that game as a bruising old man
- His name is BRONKO NAGURSKI
It's FUCKING question TIME!
What did you do with the unnamed commenters earlier this week? Were they like you pictured them?
Drank. We drank alcohol. Isn't that what you do with people? We also chit-chatted like the bitches we are. HAHAHAHAHAH… hahah… hooo… They were very nice. Not bitches. They are/were nice ladies.
"Were they like you pictured them?" – Short answer: yes.
But long answer: … a long answer that has nothing to do with the question kind of…
I have joked that people are so much bigger in person than they are on the internet. That is the difference. I am always shocked at how big people are in real life. Think about it like this, before you meet the person in real life, most likely you will have seen a picture of them online or many pictures. All those pictures are infinitely smaller than the person standing in front of you. My computer monitor is 15 or 17 inches and *fingers crossed* the full scale person is bigger than 17 inches*. So generally, I'm seeing this person as a 5 inches tall. Their whole existence is no bigger than my… ahem… finger. But when you see them in person, they are full size! They're not some miniature key chain version of themselves – they are themselves! It is very interesting. It's the reverse for movie stars because you see them on a huge movie screen. Their head is 20 feet tall, so in real life they look smaller.
The funnier thing to me is that I'm a big guy. So no matter how "big" the person is in real life, I'm usually bigger than they are. So so, when I met these ladies – my first reaction is they're so much more than a 3×5 picture and then I'm like I'm a lot bigger than they are, so if this turns into a street fight I can take them. I'm just kidding about the last part. It's just funny to think about that they seem so real in person because I find the internet wildly fake to begin with.
Will someone PLEASE make a series out of KSWIG & His CommenTater Wives? Please???
Not much of a question, but yes! Someone should make it. I'll sign away my likeness rights, so please make it. SOMEONE!

So you are a tour guide now? Because I'll go to New York again in December. Or are you doing the tour guide thing for just some of the commontators?
I would imagine I could act as a tour guide for most of the regular commenting staff. I'm not sure about some of these other people who randomly comment like "DICKS". I'm on the fence about being a tour guide for "DICKS". But the rest of you? Sure, why not. I have enjoyed greatly meeting those who I have met, so sure.
Also, why can't I see your okcupid profile?
I put a curse on your computer… or…
I've been told that you might need to copy and paste the url into the url and not click on the link.

I read your OKCupid profile and I want to know who the fuck is calling you a "bad boy"? Or did you use the quotation marks around "bad boy" to indicate that, by "bad boy," you mean "decent, straight-up, easily-manipulated-through-guilt young man"?
Well… I'll let one of the other comments explain first…

I think the bad boy thing is an ironic acknowledgment that some girls want the bad boy but won't admit it. By pointing it out he effectively called them on their bullshit, but they can't be mad, because supposedly they don't want the bad boy anyway so it doesn't apply to them. Or something. I don't know, I just had a Four Loko and my BAC is like .27.
Minus the last troubling bit about the Four Loko drinking, I would agree with this. It is partly why I did it. It does seem like a lot of girls/women want a "bad boy" type, but I'm not much of one. I don't think I look like a bad boy at all. I try to make people laugh, I'm generally pretty nice to people especially when I'm with other people, and I don't "brood" in public. Also, I don't own a leather jacket. So, yeah, it is a little jab at chicks for liking d-bags because they are "bad boys". Who the fuck is a "bad boy"? I'm 6'3″ at least and I'll strangle some "bad boy" with my bear hands and just the rage I have in my body over the second Star Wars trilogy. That's all it will take. And yes, my hands become the hands of a "bear" when I am provoked. It is an odd super power, but at least it is a super power.
I also did it for the "yucks". Clearly, it is a joke. I put it in quotes and so forth.
I wasn't aware you engaged in threesomes with your commenters. Is this open for everyone? Is there an application process? What are your hard limits?
My "hard limits"? I don't like being slapped or bound if that is what you mean. I would say all applications can be emailed to me. Just fill in whatever details you believe are necessary – physical dimensions, IQ, allergies, et cetera.
I hope everyone has a great weekend. I hope everyone has a great Halloween. If everyone wants to talk about what they're dressing up as for Halloween then that would be cool. Including visual evidence would be cool too.
I think I am being a "flag football player". Why? Because I'm in the middle of moving right now and because I don't like dressing up.
HAVE A GREAT WEEKEND! HAPPY HALLOWEEN!
I love women.
Yesterday, I saw that Forbes magazine announced its Top 100 "Worlds Most Powerful Women" list. I found the list equally interesting and ridiculous at points. I am never happy with lists. When making a list, especially a list with a wide degree of possibles on the list, it becomes about representation and political. No matter how simple the list is people want their list to look diverse and not sedentary. The most "powerful" women could very well be all political leaders or all CEOs or just the richest or whatever, but that is boring so they try to mix it up some.
They want people to feel like they're represented in the list. How many of you know who the Chief Executives are of DuPont or Xerox? You can guess that by me mentioning these two companies on a post about powerful women that these two Chief Executives are women. I would guess a very small amount of people could name these two women. I didn't know who they were and they are numbers #20 and #18 respectively on this list. But you and I know who Beyonce is because of the pop songs, bikini pictures and music videos and she's number #9. Seriously, Beyonce? She's more "powerful"? I get more famous, but I don't think Beyonce really has much pull in the world as they are giving her credit for. Yeah, if Beyonce wanted to make Dreamgirls II: Attack of the Clones then I'm sure Beyonce would be the person to speak to.
http://www.forbes.com/wealth/power-women/list?partner=yahooshine
Here is the link to the list in its entirety and its handy dandy interactive list with pictures(!). Who doesn't love some Supreme Court Justice Sonia Sotomayor pictures, am I right? Just say her name – Sonia Sotomayoooooorrrrr. Let it roll off your tongue and look at her pictures and drink sangria and with merengue music. Sotomayor, sangria, merengue. Doesn't that just wash all your problems away. Sonia, sangria, Sotomayor, merengue. Let it get sexy. Just let it happen. Sonia, Soto… my…. your(!), sangria, merengue… SOTOMAYOR!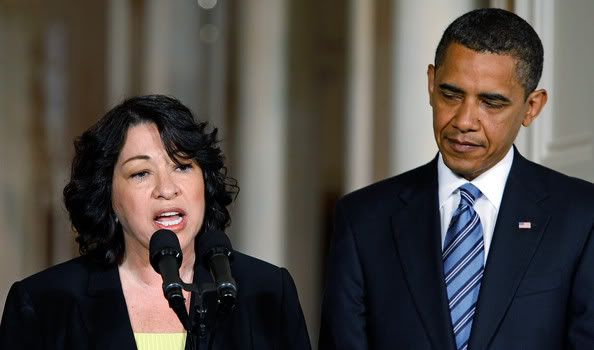 http://shine.yahoo.com/channel/life/the-worlds-most-powerful-women-2397385/
I am not going to attempt to go through the entire list of 100 women. Let's safely say, I agree with most of them, if anything they are certainly all well-accomplished in whatever facet that may be, and I would be the cub to easily 60% of the cougars on the list. Just saying… ladies… powerful ladies.
I will go through the article that was attached to the list because I want to and I will put my spin on it. The article is in BOLD and I am in my usual sweatpants and t-shirt. It's cool and breezy out and the windows are open. COMMENCE!
When it comes to power, cultural impact means as much as money and political influence.
Sure.

Forbes' power lists are synonymous with moguls and movie stars, heads of state and captains of business. One look at the 2010 World's 100 Most Powerful Women list and it is clear that we've come up with a new ranking of the female power elite that reflects the New Order of now.
NWO, motherfuckers! "New World Order"! "Hollywood" Hulk Hogan and "The Outsiders" Scott Hall and Kevin Nash are taking over WCW! Besides the ominous overtones, I did like that the makers of the list did not fall to their knees and just prostrate for celebrities. There are some celebs on the list, but the ones that are up there are up there for good reason. Angelina Jolie did start out as an actress and she continues to make terrible movies (have you seen the trailer for The Tourist – unless my family including my dogs are kidnapped and the ransom is to see that movie to set them free would I see that), but no one can deny she does a lot more than act. She's out there as a UN Goodwill Ambassador, she's adopting underprivileged nations' children into her bosom, she's saying crazy right wing arguments, she's fucking Brad Pitt – each one makes her more than just an actress than the next.  

When we set out to identify this year's list, we decided it was time to look up and out into the broader culture. Our assessment is based less on traditional titles and roles and more on creative influence and entrepreneurship. These power women have built distinctive companies and brands and championed weighty causes, sometimes through unconventional means; in other cases they have broken through gender barriers.
I do not remember any other Forbes 100 powerful women lists off the top of my head, but did they not feature chicks from other countries in them before? I feel like the "broader culture" means foreigners and not just TV famous people. I fully support this, although it makes me wonder why they need to justify it. You are Forbes! You shouldn't have been pandering to the People Magazine stalwarts. Also, I find the "broken through gender barriers" line to be misleading. Personally, I don't think about a woman succeeding in the man's world as breaking gender barriers – I generally think of trannies. Like pre-op or post-op. They're all heroes.

We divided our power women candidates into four groups: politics, business, media and lifestyle (that is, entertainment, sports and fashion). We ranked the women in each group, and then group against group. Not easy, but that's today's reality: an unpredictable, diverse mash-up of hard power (currencies and constitutions) and dynamic power (audience and audacity).
We divided our power women candidates into four groups: politics, business, media and gore-jusssssss! Am I right!?! "Hard power" is the pillow talk and "dynamic power" is the slutty stuff in the bedroom.

Why else would Lady Gaga (No. 7) and Ellen DeGeneres (No. 10) share top 10 billing with Michelle Obama (No. 1), Irene Rosenfeld, CEO of Kraft Foods ( KFT – news – people ) (No. 2), Secretary of State Hillary Clinton (No. 5) and Indra Nooyi of PepsiCo ( PEP – news – people ) (No. 6)? If anything, it's inspiring.
You do not need to justify to me why Lady Gaga is #7 or why Ellen DeGeneres is #10. That makes complete fucking sense to me, in all seriousness. As little influence as I believe Beyonce has in the music industry and outside of it, that is how much I think Lady Gaga has. The Lady Gaga is a tornado – a tornado that wants gays in the military wearing crotchless camo fatigues while dry humping to "Poker Face". Being gay in America has become a major issue that celebrities have taken up the mantle of and Gaga is right there leading this fabulous march for equality. At the same time, there isn't anyone bigger in music than Lady Gaga. No one. She is a pop-culture super giant at this point. It is very easy to draw the lines from where she started as a pop music act to now holding sway over the music industry as well as her rabid fanbase's rabid opinions.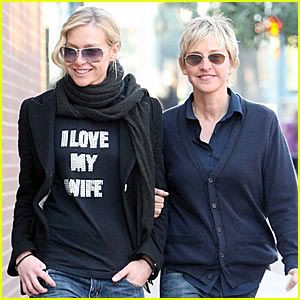 Ellen DeGeneres is the white Oprah and has been for a couple years, so no explanation needed. As for the rest of these women, Michelle Obama should be #1 most definitely. I like the other choices and where they are on the list as H-Rod, I-Ro, and I-Noo all should be in the top 10.
We included many heads of state and hopeful candidates, but we also have queenmakers who don't hold office, first ladies of various sorts, Surpreme Court justices and cultural icons, bankers and bestselling authors. We rely on these women for, yes, managing our money, creating paychecks and governing at home and on the international stage, but also what we eat, download, talk about around the dinner table and the causes we support. What we think and how we act.
What we're trying to say is we still love Madonna. And that is why we have her at a gaudy #29 for no apparent reason. It is also why we threw Chelsea Handler on the list at #33 because she just makes us laugh too much. Really? Handler? She has some books and she has a TV show and her twitter account does well, but really? I think there is a grave difference between people finding her sarcasm funny and people finding it "powerful". There are PRESIDENTS of COUNTRIES that are well behind Chelsea in "power" on this list. She's funny, but come on!
Since they are talking about the intangible of power here, I'll mention JK Rowling is not on this list, which is FUCKING CRAZY! Do you want to talk about "power"? How about getting 20+ million kids to pre-order a book that is 700 pages long and when they get the book they'll forgo food or sleep until they finish the book? That is no easy task. No Rowling to me is an INSANE glaring omission on this list and a Harry Potter movie is coming out this year too.
Stephanie Meyer is on the list for fuck's sake. It's not like fantasy novelist was exempted.
At the top of our list, First Lady Michelle Obama is a true change-maker since taking lodge in the White House in 2008. The first African-American in the post, she's changed the face of the office (literally), and with consistently high approval ratings, she's given a new generation of girls and women around the world a role model. A former private attorney and public servant in Chicago, her interest in working with young people and advocating for healthy eating, among other issues, is evidenced by her Let's Move! campaign, which aims to solve the epidemic of childhood obesity within a generation.
She's also got the arms and legs of a Roman Goddess. She may have the ability to sculpt fire and lightning. Don't be shocked if that happens.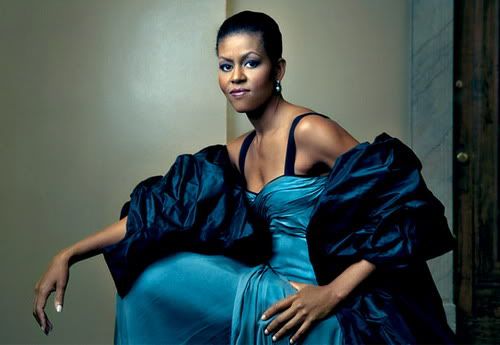 Power women are connected, each one leveraging the power of the next. As a result of Let's Move!, for example, major food and drink manufacturers (including Rosenfeld's Kraft Foods and Nooyi's PepsiCo) have pledged to cut 1.5 trillion calories from their products by 2015 through new products, recipes and reduced portion sizes. At the Clinton Global Initiative (CGI) last month, Secretary of State Clinton led a plenary session on empowering women and girls, a new CGI action area, and attended by Katie Couric (No. 22), Queen Rania Al Abdullah of Jordan (No. 76) and Liberian President Ellen Johnson Sirleaf (No. 86).
Cutting 1.5 trillion calories? Either everything is going to be Diet Pepsi or we're going to have to get used to 4 ounce cans.
The "CGI action area"? CGI? Action area? Does that mean Katie Couric, Queen Rania, and Liberian President Ellen Johnson Sirleaf recreated Avatar? Because I would sooooo watch that!
Back to how Nooyi and talk show host DeGeneres landed together among the top 10 most powerful women in the world? While Nooyi helms PepsiCo, which has revenues of $43 billion annually and a portfolio of brands that include Tropicana, Frito Lay and Gatorade, DeGeneres directly connects with 3 million viewers daily weekdays through her talk show. And that's just one hour of her day.
Also, DeGeneres nabbed the hottest piece of lesbian tail with Portia DeRossi. DeGeneres is the lesbian Arthur Miller. I am a fan. Always been a fan – you know Ellen you're right the airplane seat in front of me always reclines far enough that I can do dental work on that person, but mine only reclines an inch.
Nooyi – I love what you do. I'm guessing "Nooyi" is pronounced "New-Yee" or at least that is how I'm saying it in my head. Pepsi, orange juice, chips, and Gatorade? She's the perfect woman. I have to admit though, I do not like the new low-calorie Gatorade. It makes me feel a little sick after drinking it. It tastes like diet Gatorade the way diet soda tastes like diet soda. It's just weird and off putting. But I fucking love regular ass Gatorade. Screw this "G" campaign – it's just regular ass Gatorade, so DRINK IT! Its got electrolytes.
Off-camera, the out-and-proud DeGeneres spreads her message to more than 5 million Twitter followers, notably bringing national attention to a gay teen's fight for same-sex prom dates last spring. Her high-profile, high-energy personality–as a television host, CoverGirl model and former judge of American Idol–has made LGBT issues more than mainstream. She's instilled a sense of glee and attractiveness to it all.
Yeah, I know. She rules. I kind of wish they used this time to talk about some of these less than crazy famous women. I know what DeGeneres is up to, but I don't know what #90 Sun Yafang is up to. What's up, Sun? What does Huawei Technologies do? I know I can look that up myself, but at the same time I don't need to be reminded about all that Ellen has done with her life and how little I have done with mine. In all honesty, why is Gisele Bundchen #72? I would cut off many of my appendages and other peoples for Gisele, but #72? Rachel Ray is #78 and she pretty much owns The Food Network and has an ABC show and books and was on Shaq Vs.
Traditionally, women's lists are heavily salted with the language of "firsts." First woman CEO. First woman on the Supreme Court. First female president. To be sure, there are firsts on this list: Nancy Pelosi is the first female Speaker of the House, while race car driver Danica Patrick is the first (and only) woman to have won an IndyCar series. With the impending launch of OWN, Oprah Winfrey is the first woman to own her own cable network and Julia Gillard and Johnson Sirleaf are currently the first female prime minister of Australia and Africa's first female president, respectively.
What up!?! Sexy ladies in the house! Sexy lady Speaker of the House. Sexy lady driving race cars. Sexy lady owning TV networks. Sexy lady Prime Ministering. Sexy Lady as the President of Africa? How did Forbes fuck this up? Can we stop referring to Africa as one nation? They couldn't do a Wikipedia check on Sirleaf and find out what country she lives in and is the President of? It is just ridiculous. I know that all of Africa is fucked, but it is a CONTINENT and there many many COUNTRIES in it.
First females make for good copy, but the real headline is that packs have emerged. Three women sit on the Supreme Court, marking an unprecedented tipping point for change. This year Diane Sawyer joined Couric as a female nightly solo news anchor, with Rachel Maddow and Christiane Amanpour as compats. Gillard is among 10 female heads of state on this year's rankings. From Singapore to Silicon Valley, 25 women on the list hold CEO titles.
What's up, penis dudes? Vaginas are taking over! Taking ovah with our ovaries! I think they should have switched Sawyer with Couric simply because I watch Sawyer over Katie. Also, Maddow should have been higher/lower closer to #1 on the list. Maybe in the 30′s. And Christiane Amanpour's name rolls off the tongue like chocolate silk.

Ripening for political leaders, generally, comes at the 50s and 60s, while business leaders peak in their 40s and 50s. Media and lifestyle power women seem to come of age in their 20s and 30s. But there are notable exceptions and crossover. Madonna and Arianna Huffington have exceptional staying power, while Sarah Palin and Facebook's Sheryl Sandberg are early bloomers.
What Arianna Huffington has done with her career is simply astounding? She went from being the comic sparring partner of Al Franken on Politically Incorrect to being the namesake of the liberal website equivalent of Fox News. Good for you and fighting the good fight. I dislike Sarah Palin, but I cannot deny her insane "power". I don't understand it, but it is there. She does hold a lot of influence over people for some reason. Not enough to get her elected or maybe any of these primary winners elected, but she does hold some power. At some point, the people who follow will have to realize that they are following a talentless celebrity and not a real political leader. I want to stab myself in the brain with a steak knife thinking about her in a foreign policy meeting. She was a sports reporter! She was in a beauty pageant! She shouldn't be governing! And thankfully, she isn't considering she quit her sham political job and is a full time TV and twitter personality.

Redefining the idea of power as influence is a challenging feat, particularly hard in that we looked at the world in all of its complexities to find the women who wield their importance in four distilled spheres to create change. Add the pace of the year 2010–the speed at which we consume and communicate–and the task becomes even greater.
OK?

What we've found is that power, hard or dynamic, can be fleeting. One million or so Twitter followers today can be kissed goodbye as quickly as a company can go bankrupt or a government overthrown. And so we consider this list a frozen moment in time.
Meaning that there could be fuck ups on this list, but at the moment of publishing we thought they were right choices.

We invite you to visit forbes.com/woman where the list will live, breathe and be shaped and reshaped in months to come.
Now it sounds like Frankenstein's monster. I suggest you take a look at the list before it becomes self-aware and attacks the Pacific North West of the US and we'll need to take Independence Day like action and send a squadron of fighter planes led by President Barack Obama with Michelle riding the outside of the plane like it's a horse wielding her supernatural powers.
And what's an entire article about "powerful" women with out even a fucking mention of Oprah. OPRAH! I know she's been the Women's Power Champion forever and we all know she runs ish, but come on! It's her last season! And she has a new puppy! OPRAH!
Questions for Friday…